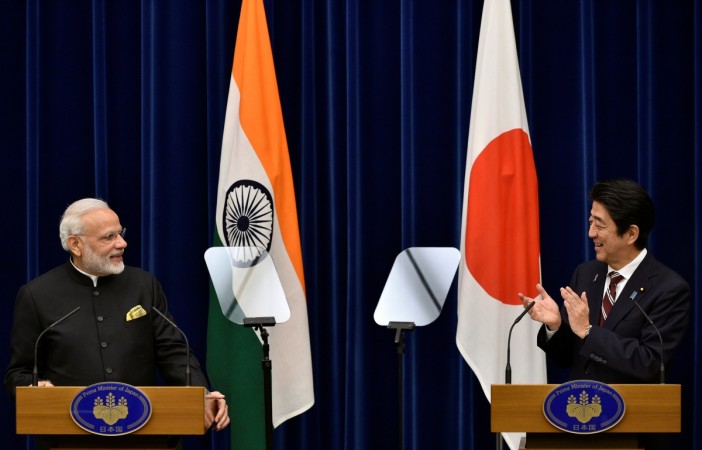 TOKYO: India and Japan today signed 10 pacts covering a range of areas such as boosting Japanese investment in infrastructure, railways, and for cooperation in space and agriculture, as part of agreements to bolster bilateral ties.
An MoU was signed between the National Investment and Infrastructure Fund Limited and Japan Overseas Infrastructure Investment Corporation for Transport and Urban Development to enable cooperation and promote investment in infrastructure projects in railways & transportation; port terminals; toll roads; airport terminals and urban development.
"This MoU would also enable the two sides to explore opportunities to set up a NIIF-JOIN joint fund," the Ministry of External Affairs said in a statement.
Two memorandum of understandings were signed to boost cooperation in space technology. One of the MoUs between Indian Space Research Organisation (ISRO) and Japan Aerospace Exploration Agency (JAXA) concerned cooperation in outer space in satellite navigation and planetary exploration.
It also included joint missions and joint use of ground systems for mutual support.
The other MoU between India's Ministry of Earth Sciences and the Japan Agency for Marine-Earth Science aims to promote cooperation in areas of joint survey and research, and exchange of scientific visits by researchers and experts.
India and Japan also signed a landmark deal for civil nuclear cooperation after talks between Prime Minister Narendra Modi and his counterpart Shinzo Abe. The move is likely to boost bilateral economic and security ties and facilitate US-based players to set up atomic plants in India.
The deal allows Japan to export nuclear technology to India, making it the first non-NPT signatory to have such a deal with Tokyo. It cements bilateral economic and security ties as the two nations warm up to counter an assertive China.
In past two years, India received about $55 billion in foreign direct investments, which, Modi has said during this visit, is "not only the highest ever FDI but also highest growth in FDI in India".