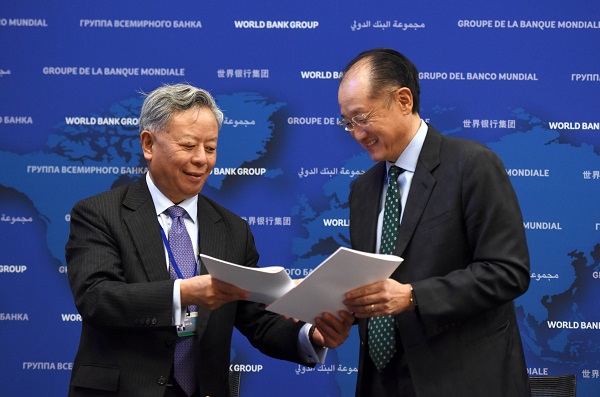 The China-led AIIB, along with the World Bank and the Asian Development Bank will approve the first batch of co-financed projects in June, AIIB President Jin Liqun said Wednesday.
"We are working with the World Bank and the ADB for co-financing. Maybe in June, we could have couples of projects approved by the World Bank, by the ADB, and by us" Jin said.
The US had officially opposed the creation of the Asian Infrastructure Investment Bank (AIIB). The emergence of the world's first major multilateral development bank in a generation had riled up many at the World Bank.
The China-led international lender, AIIB, is also "processing freestanding projects" prepared by its own experts, Jin said on Wednesday.
"Infrastructure projects are very large. It's not a very good idea for one bank to spend 2 billion or 3 billion U.S. dollars on one project," he said, adding that there is vast room for cooperation among multilateral development banks.
The $100-billion Asian Infrastructure Investment Bank will boost infrastructure investment in Asia and improve integration, China's President Xi Jinping said in January this year.
In its first year of operation, the AIIB expects to approve about $1.2 billion in financing, some of these will be in joint projects with the World Bank.
As the pent-up demand for infrastructure could be as high as 10 trillion dollars over the next decade, Jin said there's no competition but "only cooperation and coordination" between the AIIB and other development banks.
On Wednesday, the AIIB and the World Bank signed the first co-financing framework agreement, paving the way for their cooperation on joint projects this year.
"Signing this agreement enables our institutions to finance development projects together, and that is an important first step toward working with a new partner to address the world's huge infrastructure needs," World Bank President Jim Yong Kim said.
While there are huge demands for infrastructure in Asia, Jin said the AIIB has to "be selective" and invest in good projects that meet its standards of "financially sustainable, environmentally friendly and socially acceptable."
Given the broad definition of infrastructure in the bank's mandate, Jin said the AIIB could provide finance for non-physical infrastructure like health and education in the future.
Jin also noted that the AIIB could support projects under China's Belt and Road initiative, but it was not created exclusively for this initiative.
"We would finance infrastructure projects in all emerging market economies even though they don't belong to the Belt and Road initiative," he said.
The AIIB has 57 prospective founding members, including some key US allies, with an authorized capital of $100 billion.
The bank was formally established in Beijing in December last year and started operation in January.
The AIIB is one of three entities China is promoting, along with a joint $100 billion BRICS Development Bank and a $40 billion Silk Road Fund.