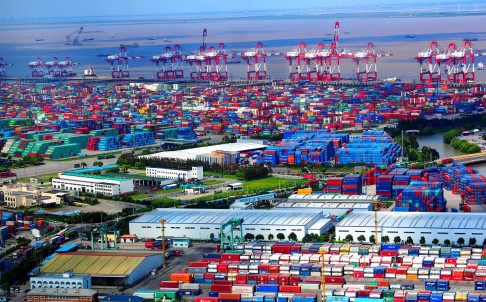 China's foreign trade dropped 8.8 per cent year on year to 2.22 trillion yuan (about $352 billion) in September, less severe than the 9.7-per cent contraction in August, official data showed on Tuesday.
Exports dropped 1.1 per cent to 1.3 trillion yuan and imports decreased 17.7 per cent to 924 billion yuan. The trade surplus totaled 376.2 billion yuan, up 96.1 per cent, the General Administration of Customs said.
Reuters economists had expected an export decline of 6.3 per cent and an import decline of 15.0 per cent in dollar terms.
For the first three quarters, China's foreign trade dropped 7.9 per cent year on year to 17.87 trillion yuan with exports down 1.8 per cent to 10.24 trillion yuan and imports down 15.1 per cent to 7.63 trillion yuan. Trade surplus surged by 82.1 per cent to 2.61 trillion yuan.
Top leaders in China's ruling Communist Party will hold a key meeting from Oct. 26 to 29 to discuss the next five-year plan, a Politburo statement said on Monday.