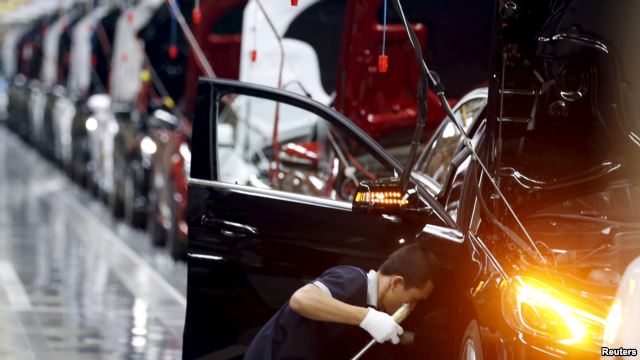 Chinese authorities will hold high-level political meetings in Beijing next week that are expected to unveil details about the country's next five-year plan, which comes as the Chinese economy is slipping into a so-called "new normal" of slower economic growth.
According to official data released this week, China's economy grew at 6.9 percent in the third quarter, its slowest pace in six years. The fact that the indicator coincidentally met the government's target of a "flexible 7 percent" has again fueled skepticism about the reliability of official economic indicators in China.
Research firm Sanford Bernstein, which keeps tabs on sales of movie tickets, cars, mobile phones and Alibaba online transactions in China, has argued that the world's second-largest economy is actually weaker than it seems. The firm's estimate of China's third-quarter growth was 4.1 percent.
Signs of structural changes are evident in the Chinese economy. Official statistics indicated agriculture and manufacturing grew at 3.8 and 6 percent respectively, underperforming the services sector's 8.4 percent.
And the pressures on manufacturing in China, in particular, are mounting, say industry watchers.
Closures, downsizing
"Manufacturers are under heavy pressure," said David Lee, chairman of Fujian-based Kingcan Holdings. "Many [Taiwanese] companies in Dongguan [in Guangdong province] have been forced to shut down after having seen a contraction of up to 50 percent. Businesses which remain have also been forced to downsize."
Lee added that his tin can business managed to deliver a trend-bucking 22 percent third-quarter growth because he has quickly adapted and shifted his focus to growing demand from Sichun and Inner Mongolia in China, as well as South Asian countries, including India and Sri Lanka.
But not too many other firms are as nimble as Kingcan.
"It'll be an inevitable trend that businesses that are smaller in size, belong to the export-reprocessing and labor-intensive industries, or sell low-end products will be stricken out of the Chinese market," said Lu Hong-te, a professor from Chung Yuan Christian University, who has long tracked the development of Taiwanese electronics makers in China.
The professor estimated that in Dongguan alone, 2,000 Taiwanese businesses are left out of a total of 8,000 at the peak.
Driven by consumption
No doubt, China is not only slowly moving up the value chain but also is transitioning from an export-oriented economy to a domestic consumption-driven one. But can China's consumption be enough to drive its future economy?
The answer may depend on whether China can succeed in doubling its GDP per capita in 2020 from the 2010 level while adjusting to a lowered growth target of 6.5 percent. These are among the goals that are expected to be included in the country's 13th five-year plan, according to Chinese language media reports.
The next five-year plan will be "absolutely critical" to China's economic future, said Dan Steinbock, a research director of international business at the India, China and America Institute.
Decreased growth
Steinbock sees China's decreased growth a norm and believes the Chinese economy will further decline to 5 percent annual growth in the early 2020s. But he thinks the future reforms of state-owned enterprises will be a bigger headache than doubling the nation's annual incomes.
And the key to success is to time the reforms right, he added.
"If you move too fast, you risk additional unemployment, bad loans and social disharmony; if you move too slow, you will contribute to a false sense of stability, creeping asset bubbles and decreased growth over time," he said.
Sources say that the main goal of the next five-year plan will be to seek a "moderately well-off society," with attention to service-sector growth, agricultural innovation, and establishment of regional zones for promotion of efficient urban and rural development.
Cai Jiming, a former member of the Chinese People's Political Consultative Conference, said the next round of China's urbanization will pose the biggest challenge.
"China's urbanization plan involves hundreds of millions of farmers, who will seek to switch to a new line of career or move from rural areas into cities," Cai said. "The rising demand from them will have a big impact on both the Chinese and world economies."
Many large opportunities will also be present for foreign investments, he added.