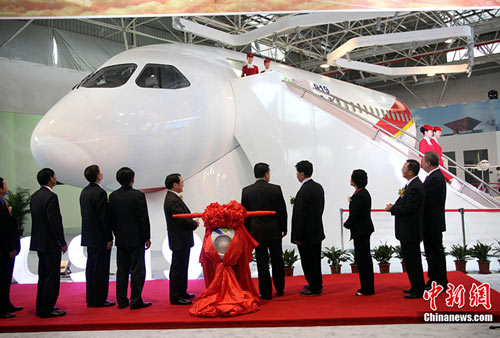 As the first China-made large aircraft roll off the production line, plans for the larger C929 to rival the Boeing 777 are well under way.
The China-made large passenger aircraft C919 that made its debut at an exhibition in November 2010 will begin to roll off the production line from Nov.2 this year. Its maiden flight is expected to be in the third quarter of next year, according to Wang Jian, chairman of the AVIC Electromechanical Company speaking at the International Forum of Civilian Aircraft Electromechanical Systems held in Nanjing.
The C919 has been developed by the Commercial Aircraft Corporation of China (COMAC), which develops home-grown passenger aircraft, including the short range jet ARJ21. The single-aisle narrow-body passenger aircraft C919 has been marketed over the past years aimed at competing with the Boeing 737 and Airbus 320.
Wang said as of now, a total of 514 China-made C919 aircraft have been ordered by 21 customers around the world.
Wang said that according to the current plan, the C919 will make its maiden flight in the third quarter next year, or possibly in 2017.
The C919's "successor" – the wide-body aircraft C929 has also entered the research stage in terms of key technologies. According to Wang, the C929 will use domestic engine and have a capacity of more than 300 passengers, aiming to replace the Boeing 777 in the future.