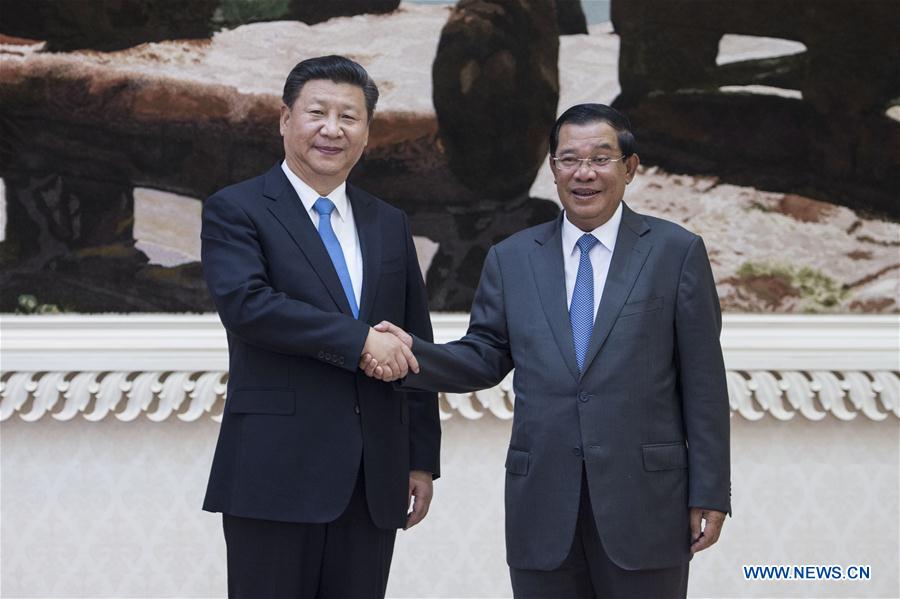 China and Cambodia pledged Thursday to advance their already close and strong relationship as Chinese President Xi Jinping paid his first state visit to the Southeast Asian nation.
In talks between Xi and Cambodian Prime Minister Hun Sen, the two leaders agreed that the two countries should continue to be "highly trusted friends, loyal partners and a community of shared destiny in weal and woe."
They have also decided to cement the traditional friendship between the two countries and boost their comprehensive strategic cooperation.
Noting that the friendship that was forged and cultivated by Chinese and Cambodian leaders of previous generations has grown even stronger, President Xi said that the current bilateral relationship is showing a positive momentum of development, with continuously enhanced political mutual trust, fruitful economic cooperation and closer coordination in multilateral affairs.
"China has always valued the traditional friendship between the two countries, and stands ready to work with Cambodia to constantly enrich the meaning of their comprehensive strategic cooperative partnership, thus delivering more tangible benefits to both peoples," Xi said.
The president praised the political and social stability, rapid economic development and improvement of people's livelihood in Cambodia, as well as the elevation of the country's international status, saying that he believes the Cambodian government will lead its people to build a more prosperous country.
"China firmly supports Cambodia in pursuing a development path that suits its national conditions, and is willing to continue to provide assistance within its own capacity for Cambodia in national construction," Xi said.
For his part, Hun Sen said that the Cambodian side thanks China for its long-term assistance and always regards carrying forward the traditional friendship as an important mission.
Noting that Cambodia and China are good friends who enjoy a high level of mutual trust, Hun Sen said that the two sides have always understood and supported each other on issues involving their respective development and major concerns.
Cambodia is willing to join hands with China to take President Xi's visit as an opportunity to strengthen their friendship and deepen their comprehensive strategic cooperative partnership, he added.
During the talks, the two sides vowed to maintain high-level contacts, enhance government, parliament and political party cooperation, deepen exchanges on governance experience, and expand collaboration in diplomacy as well as law enforcement and security.
The two sides agreed to align their development strategies, and draw up and implement a cooperation outline on jointly promoting the China-proposed Belt and Road Initiative.
The two countries will take measures to expand their two-way trade, and strengthen cooperation in industrial capacity, investment, agriculture, water conservancy, infrastructure construction, energy, telecommunications, industry and marine sector. The two leaders witnessed the signing of a number of bilateral cooperation agreements covering those fields Thursday.
The Sihanoukville Special Economic Zone and other projects of bilateral cooperation should be earnestly carried out, the two sides agreed.
Both sides also wanted to expand exchanges and cooperation in science and technology, education, culture, cultural relics, health, tourism and youth.
On international affairs, the two sides pledged to push cooperation between China and the Association of Southeast Asian Nations, and enhance communication and coordination within such multilateral frameworks as the United Nations, Asia-Europe Meeting, East Asia cooperation and Lancang-Mekong Cooperation group, thus safeguarding the shared interests of the two countries and the developing countries at large.
After the talks, Xi and Hun Sen attended an inauguration ceremony for a Chinese studies center in Phnom Penh. A joint declaration was issued.
Before the talks, President Xi laid a wreath at the Independence Monument in the center of the capital city.
Xi arrived here Thursday noon for a two-day state visit to the kingdom.
After Cambodia, Xi will travel to Bangladesh and the western Indian state of Goa, where he will attend a summit of the emerging-market bloc of BRICS, which groups Brazil, Russia, India, China and South Africa.