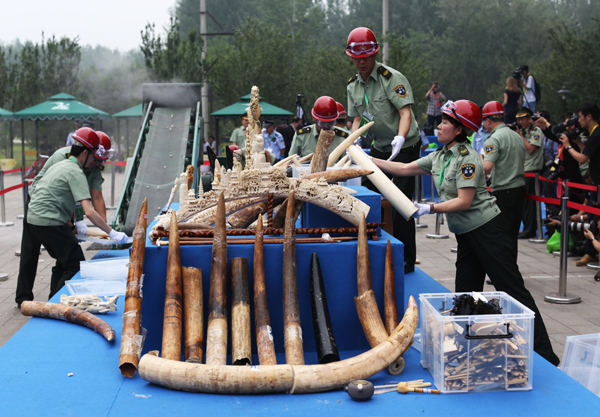 Chinese authorities on Thursday announced a one-year ban on imports of African ivory acquired as hunting trophies in the country's latest effort to fight wildlife poaching and trafficking.
In a statement on its website, the State Forestry Administration (SFA) said it would stop approving imports until Oct. 15, 2016.
The policy follows a one-year ban in February on imports of African ivory carvings acquired after the Convention on International Trade in Endangered Species of Wild Fauna and Flora (CITES), which took effect in 1975.
The SFA said a review, which would decide whether the measure should be extended, on the February ban was underway.
During President Xi Jinping's visit to the United States last month, the two countries committed to nearly-complete bans on ivory import and export, including significant restrictions on ivory hunting trophies, and regulation to halt the domestic commercial trade of ivory.
In a statement released by the White House on Friday, the two countries said they would enact a nearly complete ban on the import and export of ivory.
China signed a pact banning global trade in ivory in 1981, but it got an exemption in 2008 to buy 62 tonnes of ivory from several African countries. It releases a portion of that stockpile each year to government-licensed ivory carving factories.
The US still permits the trade of ivory acquired before a global ban enforced in 1989.
The trade and sale of ivory carvings is also legal in China if the activities conform with certain regulations. Ivory may only come from two sources — items imported before the country joined CITES in 1981, and 62 tonnes of raw-ivory stock bought from four African countries in 2008, as permitted by the CITES.
A survey conducted by WildAid, African Wildlife Foundation and Save The Elephants in March this year shows ninety-five per cent of respondents in Beijing, Shanghai and Guangzhou said that the government should impose an ivory sales ban.
The US and China are among the largest markets for illegal wildlife trade, which contributes nearly $10bn in profits to criminal groups annually, according to the US State Department.