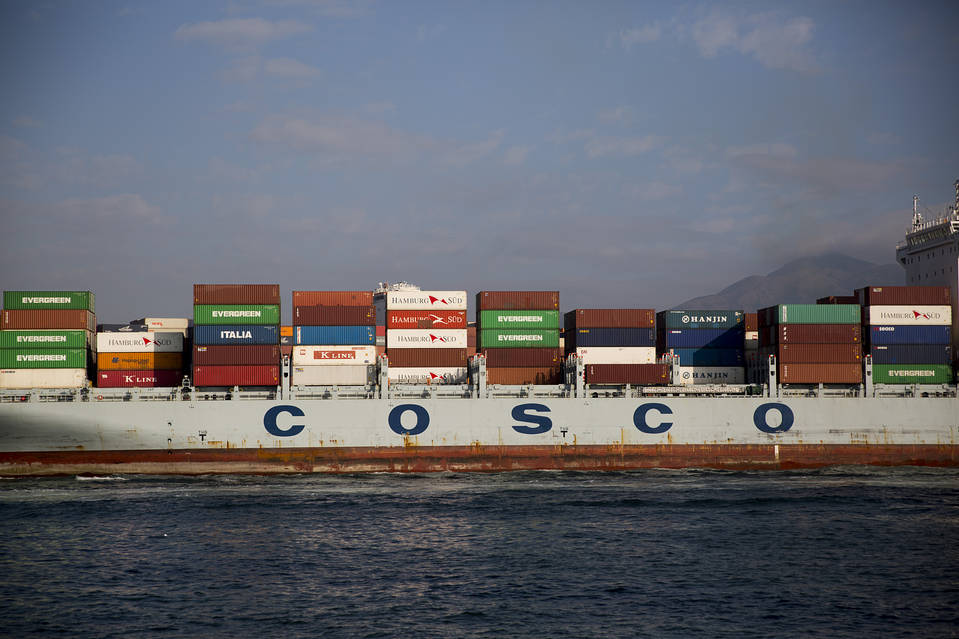 China's two state shipping giants will combine their container-shipping assets among other restructuring efforts, as part of a multibillion-dollar merger to strengthen the nation's competitiveness in an industry battered by weak demand and persistent overcapacity.
China's State Cabinet on Friday approved the merger between China Ocean Shipping (Group) Co., or Cosco Group, and China Shipping (Group) Co., according to statement posted on the website of China's state-owned Assets Supervision and Administration Commission, ending years of speculation among analysts that the government would ultimately combine the two groups to boost efficiency.
The planned merger comes as the nation attempts to reform its state-owned businesses, in the hopes of creating bigger and stronger national champions that can better compete abroad
As reported by The Wall Street Journal, the merger involves combining Cosco and China Shipping's listed container-shipping operations to create the world's fourth-biggest container-shipping line, after AP Moller Maersk Group, Mediterranean Shipping Co. and France's CMA CGM SA.
China Cosco Holdings Co. said in an exchange filling that it plans to consolidate the container-shipping operations with its state-backed rival China Shipping Container Lines Co. through acquiring a total of 33 container-shipping related units and affiliates from CSCL for 1.14 billion yuan ($177 million) and leasing its container ships.
Meanwhile, the Hong Kong and Shanghai-listed flagship of Cosco Group plans to sell all its dry-bulk shipping businesses to its state parent for 6.77 billion yuan.
The asset restructuring also covers the two groups' ports and oil-tanker-shipping operations. Cosco Pacific Ltd., the Hong Kong-listed port-operating arm of Cosco Group will pay 7.63 billion yuan to buy the port-operating business of China Shipping (Group) Co. Cosco Pacific also plans to sell its container leasing business—Florens Container Holdings Ltd.—to a unit of China Shipping Container Lines Co. for 7.78 billion yuan.
China Shipping Development Co., the oil-and-bulk-shipping unit of China Shipping Group, also plans to buy the oil shipping business from China Cosco Group, it said.
The slew of deals comes as the two shipping groups seek to reorganize their businesses, with Cosco Group focusing on the container-shipping sector and China Shipping Group becoming a shipping financial-service provider, it added.
The merger would prevent the two shipping groups from competing against each other at home and abroad, in an industry swamped with oversupply and depressed freight rates. China's economic slowdown has also hurt the prices of commodities, such as oil, iron ore and coal, damaging the shipping firms' profitability.
Parts of the deal, such as the merger of the container-shipping businesses, are subject to regulatory approvals around the world, including the U.S. and Canada.
China Cosco has been particularly hard hit by the prolonged industrywide woes in part due to its ill-timed expansion by chartering high-cost ships during the height of the commodities boom, which left the company with high debts and reduced operational efficiency.
The shipping conglomerate only managed to return to profitability in 2013 after two straight years of steep losses, because of one-time gains from asset sales to Cosco's state-owned parent.
It recorded a first-half net profit of 1.90 billion yuan ($295.1 million) in 2015, helped by nearly four billion yuan worth of government subsidies.
"Going after market share is the best strategy at a time when the shipping industry is going through one its longest downturns," said Basil Karatzas, a New York-based shipping adviser who works with some of the world's biggest players. "This merger looks to be full-fledged across all units, but this adds to its complexity. Only time will tell if all these deals go through smoothly and bring down costs or [if] it's just a case of two state giants becoming an even bigger behemoth."
Meanwhile, the global container-shipping industry has been mired in a prolonged period of meager profitability even while striving to cut costs and run its businesses under bigger and closer shipping alliances. On Monday, French shipping company CMA CGM entered a deal to buy Singapore's Neptune Orient Lines Ltd. for about $2.4 billion, in a deal that would provide some consolidation in the container-shipping fleet.
Beijing is also pushing two other state shipping companies, China Merchants Energy Shipping Co. and Sinotrans & CSC Holdings Co., to merge some units, though talks are at an early stage. The Chinese government earlier this year merged two of its biggest train makers—China CNR Corp. and CSR Corp.-into CRRC Corp. —in a bid to strengthen their competitiveness when bidding for overseas contracts.