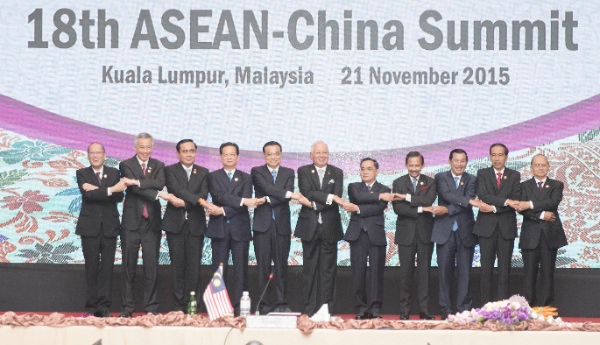 China has announced infrastructure loans totaling $10 billion to Southeast Asian countries through the ASEAN bloc.
Chinese President Xi Jinping has been to the G20 meeting in Antalya, Turkey, the Asia-Pacific Economic Cooperation (APEC) gathering in the Philippines capital Manila before returning to Beijing.
Chinese Premier LI Keqiang on Friday joined other world leaders like US President Barack Obama and Indian Prime Minister Narendra Modi at the East Asian and Association of Southeast Asian Nations (ASEAN) summits in Kuala Lumpur in Malaysia.
Chinese Premier Li announced the $10 billion financing to boost regional connectivity, as he addressed a meeting between China and the ASEAN on Saturday.
Li called on both sides to "consolidate the basis for their cooperation by enhancing mutual trust, seeking common ground, setting aside differences and expanding their common interests".
He urged the two sides to speed up talks on upgrading the China-ASEAN free trade agreement(FTA) to further enhance trade facilitation in order to achieve 1 trillion dollars in bilateral trade by 2020. The China-ASEAN FTA, the largest-ever among developing countries, was signed in 2004.
The two sides should also work fast to conclude negotiations on the Regional Comprehensive Economic Partnership (RCEP) at an early date, Li said. The China-led RCEP is a 16-nation trade bloc which includes the ASEAN plus China, India, Japan, South Korea, Australia and New Zealand.
China remains ASEAN's biggest trading partner while ASEAN is China's third largest trading partner. Bilateral trade reached nearly $400 billion in the first 10 months of this year.
China hosted the first informal meeting of China-ASEAN defense ministers this year. Li said that his country stands ready to institutionalize the meeting with ASEAN at an early date.
Li's remarks came as China and some ASEAN countries are entangled in territory disputes on the South China Sea.
The 10-member bloc is also aiming towards greater economic integration.
China is stepping up engagement with ASEAN even as the US repeatedly asserts its seriousness about the Asia Pivot policy announced by President Obama in 2009.
China claims about 90 per cent of the South China Sea.
According to official Chinese data, the South China Sea covers 3.55 million square km.
China, the Philippines, Vietnam and other nations lay contesting claims to these waters.
China exercises jurisdiction over about 2 million square km of the maritime territory.
China has also cast aspersions on US moves to "provoke" tension by supporting its regional allies, Vietnam and the Philippines. Earlier last year, Washington partially lifted its arms embargo on Vietnam, a move intended to bolster Hanoi's confidence in its dealings with China.
At the ASEAN summit on Saturday, Chinese Premier Li said "freedom of navigation in the South China Sea in line with international laws had never been hindered and that his country was willing to quickly conclude with ASEAN countries the Code of Conduct in the South China Sea on the basis of consensus".
"In recent years, the South China Sea disputes, which should have been settled only by the countries directly involved through negotiation, have been hyped up as an issue of peace, stability and freedom of navigation in the South China Sea," Li said, noting the "high-profile interventions" by some countries outside the region in a pointed reference to the US.
"That is in nobody's interest," said the premier.
"Only by expanding our common interests and seeking common ground can we narrow our differences," Li added.
ASEAN, founded in 1967, consists of Indonesia, Malaysia, the Philippines, Singapore, Thailand, Brunei, Cambodia, Laos, Myanmar and Vietnam.