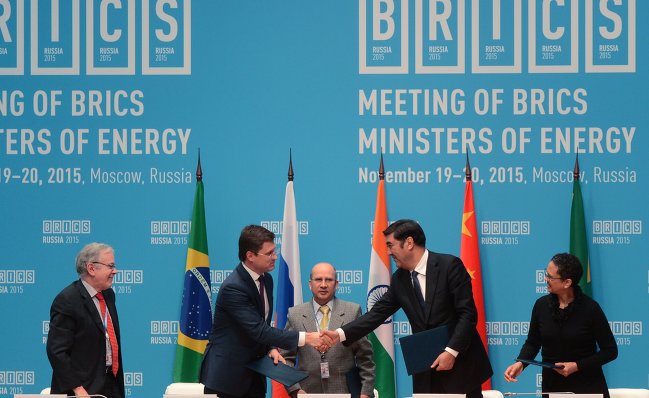 During a Meeting of the BRICS Ministers of Energy in Moscow on 20 November 2015, Russia proposed monitoring the possibility of using national currencies for energy deliveries.
Russian Minister of Energy Alexander Novak said this practice would boost energy cooperation and also reduce dependence on interim currencies and interim means of payment for energy. Mr Novak added that Russia and its closest neighbours settle mutual fuel and energy accounts in national currencies.
The minister recalled that the BRICS leaders stressed the importance of monitoring global energy trends and compiling energy consumption forecasts at the Ufa Summit. This should certainly be done, the minister said, adding that these forecasts often overlook the specifics and development trends of the BRICS economies and energy sectors. "The time has come to consider the need for and the importance of surveys and forecasts in our countries' interests," Alexander Novak said.
According to him, Russia's Draft Energy Strategy through 2035 forecasts that the main energy production indices will grow and that Russia will maintain its role and place on the global energy markets. He also reaffirmed Russia's respect for the interests of BRICS countries and its objective of strengthening their energy security and energy efficiency.
Mr Novak also proposed timing subsequent ministerial meetings to the G20 events. "This would expand our organisational boundaries and allow us to coordinate our stances with the other G20 partners," he said.
Following their meeting, the BRICS Energy Ministers have signed a Memorandum of Mutual Understanding in Energy Saving and Energy Efficiency. They have agreed to compile a list of energy efficient and clean technologies of importance for BRICS, and to pursue their energy cooperation through joint research and technology projects; technology transfer; conferences, lectures and seminars; and exchange of experience and best practices. The ministers have decided to create a working group on energy saving and energy efficiency to coordinate their cooperation.