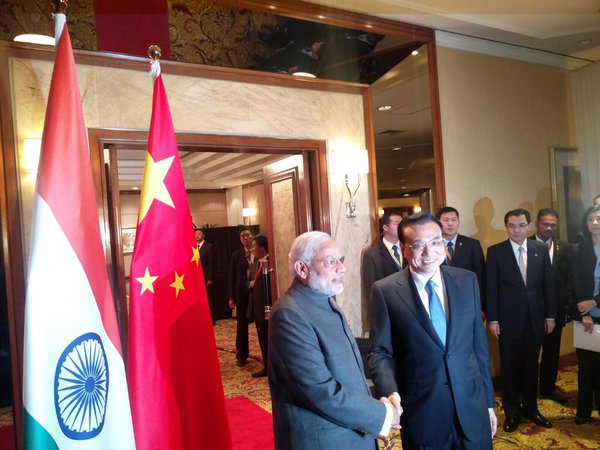 In a meeting with his Indian counterpart in Kuala Lumpur on Saturday, Chinese Premier Li Keqiang said that China and India — the world's two largest developing countries — "have more common interests than divergences".
Official relations between the world's two fastest growing economies have come a long way since the two fought a brief border war in 1962.
Li met Indian Prime Minister Narendra Modi, on the sidelines of a series of leaders' meetings on East Asian cooperation. He pushed for the early construction of a regional economic corridor involving India.
"China is willing to work with India to strive for "early harvests" in the construction of the Bangladesh-China-India-Myanmar Economic Corridor," said Li.
China and India had in 2013 formed an intergovernmental body with Bangladesh and Myanmar for the BCIM economic corridor. Consultations have been held earlier on the feasibility of a BCIM Economic corridor, a region host to 40% of the world's population. The belt hopes to retrace the lost trails and revive commercial trade in the 'Southern Silk Route'.
"China and India boosting mutual trust and cooperation will not only achieve win-win results, but also contribute to the peace, development and prosperity of Asia and the world at large," Li said at the meeting with the Indian leader.
Citing China's "Made in China 2025" and "Internet Plus" drives and Modi's pet projects "Make in India" and "Digital India" programs, Li pointed out that the two countries have "compatible development strategies".
China, he said, also "stands ready to join hands with India to beef up cooperation in trade and investment, infrastructure construction and financial services, and broaden people-to-people exchanges, so as to further consolidate public support for bilateral relations".
Bilateral trade topped $70 billion in 2014. The two countries have set a trade target of $100 billion in 2015.
Leaders in India and China have begun to acknowledge an entirely different factor driving these two giants closer together: the increasingly influential clout of developing economies in the new global financial architecture.
The BRICS Development Bank, the Asian Infrastructure Investment Bank (AIIB) and the Silk Road Fund are all initiatives spearheaded by China for a new kind of global development financing.
India has partnered with China on both the BRICS Bank and the AIIB.
Beijing, Li said, also looks forward to strengthening coordination with New Delhi on multilateral affairs and jointly tackling terrorism and other global challenges.
India and China, beyond the economic advantages of closer ties, have mutual geopolitical interests too.
Both New Delhi and Beijing are expected to increase their commitment to Afghanistan as US troops there pull out, fearful of anarchy in the war-torn south Asian state spilling over to destabilise the region.
The two countries also have close ties with Moscow both within and outside the BRICS group, even in the face of Western sanctions and isolation. Both India and China have sent military units to take part in the Victory Day parade at the Red Square in Moscow that was boycotted by Western leaders.
Speaking highly of the development of India-China ties, Modi said his country is willing to work with China to implement the consensus the two sides have reached and deepen cooperation in such areas as trade and economy, science and technology, and people-to-people exchanges.
"Happy to meet my friend, Premier Li Keqiang. We had wide-ranging talks on India-China ties during our meeting," Modi tweeted.
The Chinese premier arrived in Malaysia on Friday for the 18th China-ASEAN (10+1) leaders' meeting, the 18th ASEAN-China, Japan and South Korea (10+3) leaders' meeting and the 10th East Asia Summit.