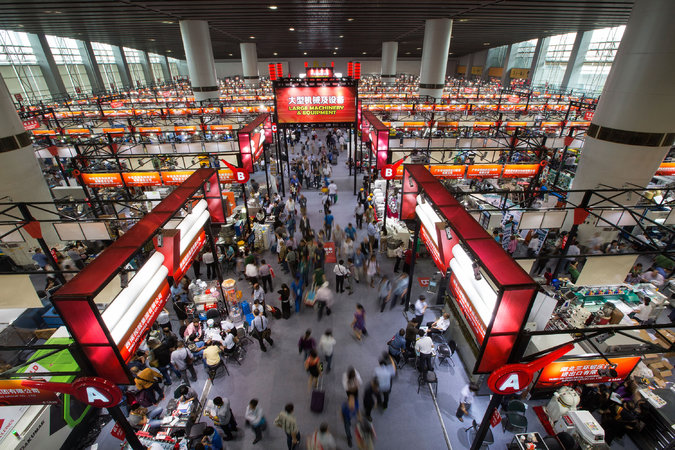 GUANGZHOU, China — In their first top-level trade talks since President Obama hosted China's leader in September, the United States and China said on Monday that they had made progress on sticking points, including preventing the theft of trade secrets and opening the Chinese market more broadly to American multinationals.
Still, the lack of larger breakthroughs on bigger issues — like negotiations for a broad trade deal — contrasted with America's improving economic ties with the rest of Asia.
The two countries have been eyeing each other cautiously.
Mr. Obama has been trying to strengthen relations in the region, through deals like the Trans-Pacific Partnership agreement, which lowers trade barriers between the United States and several other Asian nations. But the deal excludes China.
President Xi Jinping is pushing for China, with its newfound financial muscle, to play a greater role in the global economy. But his sometimes nationalistic stance has squeezed Western multinationals operating in China.
Two days of trade talks in this southern port city yielded modest commitments from China to address some issues.
Officials agreed to extend better legal protections to American companies that have lost trade secrets to theft, including clarifying their ability to seek preliminary injunctions in Chinese courts. They also made progress on opening the Chinese market wider to American manufacturers of drugs and medical devices, specifically easing the path to clinical trials.
China also appeared to step back further from regulations that were proposed this year — but shelved — that would have encouraged its huge banking sector to favor locally made technology and communication products.
"We're tackling these issues in a fairly open, frank and candid manner that I think is allowing us to make progress," Penny Pritzker, the commerce secretary of the United States, said on Monday in an interview after the annual talks, which have been held since the 1980s and are known as the United States-China Joint Commission on Commerce and Trade.
Given the often-technical nature of the negotiations between the United States and China, "the expectations weren't real high," said Myron Brilliant, the executive vice president and head of international affairs at the U.S. Chamber of Commerce, who was here for the talks. "But it was important that the forum addressed issues raised by Obama and Xi."
China is on track this year to surpass Canada as the biggest single trading partner of the United States. But as trade has ballooned in recent years, tensions have grown. China sells far more goods to the United States than it buys, resulting in a Chinese trade surplus with the United States of $218 billion in the first 10 months of this year.
Despite an overall slump in China's exports and imports this year, Chinese factories continue to do brisk business selling goods to Americans. China's merchandise exports to the United States rose 5.2 percent in the first 10 months of the year to a record $340 billion, according to Chinese customs data. China's overall exports, by contrast, have declined 2.5 percent over the same period.
American companies as varied as soybean farms and shampoo manufacturers are also making fast progress in tapping the rapidly changing Chinese consumer market. Matthew Price, the greater China chairman of Procter & Gamble, noted in a speech Sunday to American and Chinese business leaders on the sidelines of the trade talks how Chinese women on average use more skin moisturizers than their American counterparts. More than a third of the company's sales in China take place online, compared with only about 10 percent in the United States, he added.
Among the more controversial issues in the trade relationship have been Beijing's many limits on foreign services companies, which in America contribute the biggest share of economic output.
For example, China this year has raised hackles among Western tech companies, many of whose services are blocked in the country, by asking them to hand over source code as one of several measures to ensure their products remain "secure and controllable." Those companies fear that phrase could be very broadly defined by the Chinese government.
On the Chinese side, officials want broader access to acquisitions in the United States, especially when it comes to American regulatory treatment of China's tens of thousands of state-owned enterprises. Of particular concern to the Chinese has been the transparency of the review process for deals carried out by the Committee on Foreign Investment in the United States, which involves many government agencies and is led by the Treasury Department.
Zhang Xiangchen, the deputy China international trade representative at China's ministry of commerce, said on Monday after the talks that the United States and China hoped to expand trade, but obstacles remained.
"China's investments in the U.S. are subject to some barriers, such as uncertain and untransparent security checks," Mr. Zhang said. "On the other hand, the U.S. hopes China can open up its market more. Both these concerns are legitimate."
Beyond the services sector, another area of intense American interest has been greater access to the Chinese market for American agricultural products, and seeking greater clarity on the regulatory and scientific standards that Beijing imposes on imports.
Despite lobbying here by American officials, including Tom Vilsack, the agriculture secretary, China appeared ready to give little immediate ground on this issue.
"We need to be open to importing advanced technology and enriching the variety of food offered to the people," Wang Yang, the vice premier in charge of trade issues who led the Chinese delegation, said at a briefing on Sunday.
"At the same time, we must protect the interests of our 700 million farmers," Mr. Wang added. "In recent years, our agricultural costs have been rising, but prices have hit a ceiling caused by the decline in international commodity prices. We face a lot of challenges in terms of how to increase farmers' incomes and achieve sustainable agricultural development."
Ms. Pritzker said that, in response to concerns raised by Mr. Wang, the United States would revise how it handles controls on exports to China of civilian technologies it now deems delicate.
"We have agreed to develop a mechanism to improve the exchange of information on individual cases of commercial high-tech items exported to China," Ms. Pritzker said.