PRETORIA, Nov. 8 (Xinhua) — The upcoming Forum on China-Africa Cooperation (FOCAC) Summit will open new avenues of cooperation for both China and Africa, a South African cabinet minister said. The FOCAC Summit, to be held in Johannesburg on Dec. 4-5, will have the theme of "Africa-China Progressing Together: Win-Win Cooperation for Common Development", South African International Relations and Cooperation Minister Maite Nkoana-Mashabane said at a press briefing in Pretoria on Friday.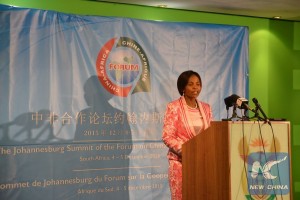 "It is envisaged that the Johannesburg Summit will elevate the Africa-China relationship to a new level that would have a beneficial impact and give impetus to Africa's developmental agenda," she said.
Africa and China have forged strong economic relations, particularly since 2009 when China became the continent's largest trading partner,the official said.
"The FOCAC platform provides an opportunity to further stimulate growth and unlock new opportunities between China and Africa on trade and other matters,"the minister said.
She said the Summit is historic, being the first to be held in Africa.
African heads of state and government, representatives from the African Union (AU), heads of regional organizations and multilateral organizations will participate in the summit.
The Summit is expected to adopt the Johannesburg Declaration and Action Plan, which will outline specific measures aimed at consolidating the growing mutual partnership between Africa and China, according to the minister.
"The FOCAC platform is based on the principles of South-South cooperation and mutual and equal benefit, with a view to addressing various areas of concern for Africa's socio-economic development and integration,"said Nkoana-Mashabane.
These include deepening cooperation in the areas of infrastructure development, debt relief, industrialization, investment promotion, market access expansion, agriculture, science and technology, health, education, and people-to-people cultural exchanges, among others.
She said that as core-chair of the FOCAC, South Africa would work closely with China to ensure that the Summit a success.
She said that South Africa will work closely with China to ensure that FOCAC declarations and action plans are effectively implemented in line with the AU's Agenda for Regional and Continental Integration and Development.
She said South Africa will endeavor to ensure that the African Agenda is realized through the FOCAC Partnership, specifically in supporting African programmes aimed at eradicating poverty, addressing inequalities of income and opportunity, creating jobs, improving habitats and access to water, sanitation and electricity, among others.