ASCENDAS Group has entered into a joint venture agreement with China's state-owned industrial and trading enterprise, China Machinery Engineering Corporation (CMEC), for strategic collaboration in industrial/business park investments and developments across Asia.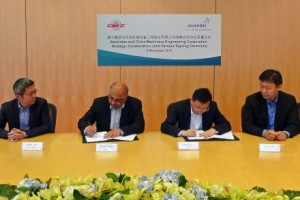 Under the joint venture, the two companies will jointly explore opportunities in key Asian countries under China's One Belt One Road initiative. These include China, India, Vietnam, Indonesia and Malaysia.
It is envisioned that Ascendas, a member of the Ascendas-Singbridge Group, will leverage Hong Kong-listed CMEC's extensive network of Chinese companies to widen its customer base for business space solutions in Asia. CMEC, meanwhile, can capitalise on Ascendas's expertise and regional presence, to assist Chinese companies venturing beyond China.
"The partners will also jointly explore opportunities to co-develop industrial/business parks in these markets to serve the needs of international corporations and Chinese companies venturing overseas," a joint statement said.