BEIJING, Dec. 1 (Xinhua) — Chinese President Xi Jinping will pay a state visit respectively to Zimbabwe and South Africa on Dec. 1-5, and will also chair the Forum on China-Africa Cooperation (FOCAC) in Johannesburg.
During his visits, the Chinese president is expected to discuss with his African counterparts the "new type of international relations" featuring practical win-win cooperation and construction of common destiny of mankind, and announce new measures to help Africa with its development.
The expected announcement is in line with his proposal made at the UN General Assembly in September on increasing aid to African countries to help them promote their peacekeeping ability so as to achieve common peace and prosperity.
In retrospect, the relationship between China and Africa is an inspiring practice and paradigm of the "new type of international relations".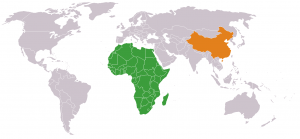 NEW TYPE OF INT'L RELATIONS
The Chinese president called for a new type of international relationship featuring win-win cooperation when speaking for the first time at the annual UN General Assembly high-level debate on Sept. 28.
"We should renew our commitment to the purposes and principles of the UN Charter, build a new type of international relations featuring win-win cooperation, and create a community of common destiny for mankind," Xi told the audience.
Expounding on how to forge such a new type of international relationship, Xi made a five-pronged proposal.
He suggested, among others, that the international community build partnership in which countries treat each other as equals, engage in mutual consultations and show mutual understanding.
"We should forge a global partnership at both international and regional levels, and embrace a new approach to state-to-state relations, one that features dialogue rather than confrontation, and seeks partnership rather than alliance," Xi noted.
Xi urged major countries to follow the principle of non-conflict, non-confrontation, mutual respect and win-win cooperation in handling their relations.
He also called on big countries to treat small ones as equals and take a right approach to justice and interests by putting justice before interests.
Xi called for safeguarding the interests of developing countries in the world and pledged financial, human resources support for underdeveloped nations and global development.
"China's vote in the United Nations will always belong to the developing countries," Xi told the general debate of the 70th session of the UN General Assembly.
"We firmly support greater representation and say of developing countries, especially African countries, in the international governance system," he promised.
CHINA'S LONG-TIME ASSISTANCE FOR AFRICA
In practice, China has been providing great assistance for the African countries over the past 60 years, especially the sub-Saharan African countries, which are facing most difficulties in health, poverty-relief and social stability.
When a tourist comes to Conakry, capital city of Guinea, one of the first buildings he will notice is a grand yellow building seasoned by decades of winds from the Atlantic Ocean.
"The Palace of the People. China," the locals will say.
The majestic structure, which was built by China in 1966, has been the landmark of the city ever since and only one of epitomes of China's continuous assistance for Africa.
High-profile projects also include the famous Tanzania-Zambia railway, the 200-million-U.S.-dollar African Union Conference Center and the Office Complex in Ethiopia, as well as many stadiums, libraries and schools on the continent.
Besides urban infrastructure, China has also been offering help in areas such as education, health and stability.
Since the outbreak of Ebola last year, China has delivered more than 117 million dollars worth of humanitarian aid and sent hundreds of medical workers to the front line in Ebola-stricken West Africa.
Moreover, China has also been actively participating in peace-keeping missions in the African countries.
At the UN Assembly, Xi announced that China will provide an additional 100 million dollars to the African Union to establish a standby force intended to respond immediately to emergency crises on the continent.
During his stay in Africa, the Chinese president is expected to announce new measures to help Africa with industrialization, food security, public health and disease prevention, Chinese Foreign Minister Wang Yi said on Thursday.
Mutual cooperation has entered a new era, Wang said, calling on the two sides to combine China's advantages in development experience and production with those of Africa in natural and human resources.
SOLVING AFRICAN ISSUES IN AFRICAN WAY
While China has been one of the biggest assistance providers for African countries, it has never seen itself as the "patron" of their African friends and firmly supports solving African issues in an African way, Wang said.
The friendly ties between China and Africa are a perfect paradigm for Xi's concept of "a new type of international relations".
With mutually beneficial cooperation and mutual respects, significant results have been achieved in recent years.
Now, China has become the continent's largest trading partner, with the double-way trade volume expected to exceed 300 billion dollars in 2015, a drastic rise from the amount of 10 billion dollars registered in 2000, when the FOCAC was first established.
China's engagement with Africa is changing. After decades of helping the African countries build infrastructure and providing them with aid, China has seen more companies expand their presence in other areas such as agriculture, transportation and consumer goods.
But one thing has not changed: China still treats, as it has always done, its African friends as equal partners in various areas from trade to regional and international affairs.
African countries warmly welcome China's help, not only because it is crucial for their economic and social development, but also because it comes without any political strings attached.
Professor Peter Kagwanja, CEO of the Nairobi-based Pan African think-tank, the Africa Policy Institute, noted that unlike Western nations, China has exerted its influence in Africa through promotion of development and people to people interactions.
Kagwanja said there is a consensus between China and its African friends that win-win cooperation and non-interference in a country's sovereign affairs will be upheld for ever.
"The idea of development-oriented peace is manifested in China's increased involvement in peacekeeping, conflict resolution and humanitarian intervention in Africa," Kagwanja noted.