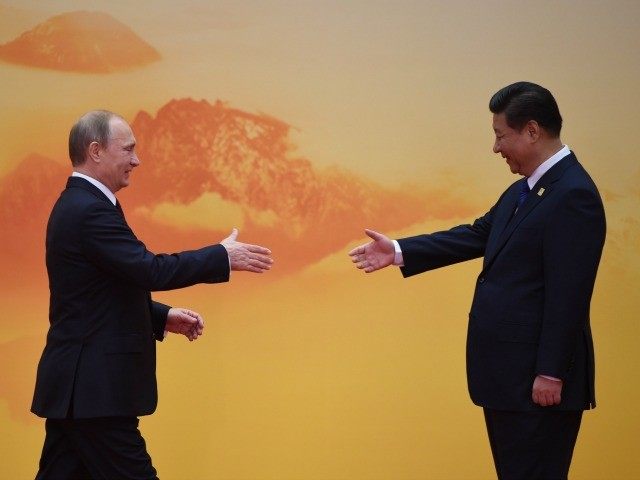 The meeting between the two heads of state occurred on Monday, as they were in attendance at the international climate change summit in Paris. Chinese state news outlet Xinhua reports that their meeting focused largely on the fight against radical Islam, particularly the Islamic State (ISIS) in the Middle East. "Xi said against the backdrop that tremendous changes have taken place in global anti-terrorism situation, China stands ready to work with the international community, including Russia, to combat terrorism and uphold the common interest of the world," China reports. The "international community" remark leaves the door open for China to work with other nations involved in hostilities in Syria and Iraq as well as other nations struggling to curb radical jihadist ideology.
The Xinhua report does not explicitly single out radical Islam, however. It notes that Putin responded to Xi's offer of cooperation by saying "Russia would like to work with China to enhance cooperation in such areas as anti-terrorism, and adamantly promote democracy in international relations."
While the article did not mention any specific terrorist threats, both nations are facing significant recruitment of their citizens by the Islamic State, Russia in the Muslim-majority population of Chechnya and China in western Xinjiang province, home to most of the nation's Muslim Uyghurs.
Following the talk between the world leaders, Russian news agency ITAR-TASS reported that Russian Prime Minister Dmitry Medvedev would be visiting China from December 14 to 17. The announcement does not mention terrorism cooperation, instead noting that Medvedev will discuss with Chinese officials "a wide range of issues of trade-economic, scientific-technical, investment and industrial cooperation, as well as bilateral humanitarian and cultural exchanges."
China and Russia are also set to be working on a media project, according to Russian propaganda outlet Russia Today. Yuri Shuvalov, identified as the head of the State Duma Committee for Mass Media, said the media project would launch in 2016 as part of "the year of the Russian and Chinese mass media."
Russia and China have taken significantly different approaches to the turmoil currently engulfing Syria and Iraq. Russia has taken an active military role in Syria to defend its ally Assad, claiming to be targeting the Islamic State with airstrikes, but in reality spending most of its efforts in regions of the country largely devoid of ISIS activity. While pro-Russian Pravda claimed in September that China had strengthened its presence in the Mediterranean Sea, little came of the report and there is no indication of active Chinese military operations in the region.
The decision to stay out of Islamic State territory has triggered a perilous dispute with Turkey, whose forces shot down a Russian fighter jet in November the Turkish government claims had violated the nation's airspace.
The Chinese Foreign Ministry has largely stayed out of the dispute, save for issuing a statement urging Russia and Turkey to "increase communication to avoid further escalating the situation. The international community should earnestly strengthen coordination and cooperation in the fight against terrorism to avoid this kind of incident from happening again." And while Chinese Ambassador to Moscow Li Hui was among the first officials Russia consulted following the incident, Turkey summoned its Chinese ambassador, as well, and the Chinese government took no sides in public statements.
China's relationship with the Turkish government has been recently strained by its relationship to Xinjiang's Uyghur population. The Turkish government issued a statement in July rebuking China for cracking down on the public observance of Ramadan, a Muslim holy month, with the Turkish Foreign Ministry stating it was "deeply concerned" and "saddened over the news that Uighur Turks have been banned from fasting or carrying out other religious duties in the Xinjiang region." The government of Turkey considers Uyghurs ethnic Turks and, as such, the duty of Turkey to protect.
Turkish nationalist protesters expressed themselves more pointedly, attacking a Korean tourist group and a Chinese Uyghur restaurant owner, mistaking both for ethnic Han Chinese. A Turkish nationalist leader excused the protesters by noting that Asian "slanted eyes" can be confusing to young Turks.
Despite these tensions experts tell the South China Morning Post they do not expect China to take sides, despite its significantly warmer relations with Moscow than Ankara. "China will urge both sides to maintain restraint and solve the disputes through negotiation, but it has no interest in becoming a mediator and getting entangled in others' disputes. The two countries are telling different stories… What they are fighting about is far more complicated than an airspace violation," said Peking University international affairs expert Jia Qingguo.
Few expect China to take on a more significant military role in the larger scheme of the war against the Islamic State, either, as Chinese officials have been keen to offer only diplomatic solutions to the war on terror. In a statement last week, for example, Foreign Ministry Spokesman Hong Lei offered as solutions "relevant UN resolutions… carry[ing] out more cooperation in blocking cross-border flow of terrorists, cutting off the secret financing channels for terrorism, and fighting cyber terrorism." Efforts by Chinese military officials did not appear on the list.
Even in response to the murder of Fan Jinghui by the Islamic State announced this month, the Chinese government responded with a statement in which it declared that it "will continue to enhance counter-terrorism cooperation with the international community and safeguard world peace and tranquility," without mentioning specifics.
The beheading of Fan is the latest in a series of actions by the Islamic State that appear designed to tempt China into a military role against them. Xi's statement alongside Putin is a sign that China may be willing to cooperate with allies like Russia on an elevated basis, though it fails to send the message that China is interested in any activities on the ground, or even diplomatic efforts between anti-ISIS nations.