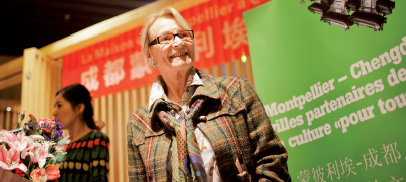 As it further opens up to the world, Chengdu has quickly broadened its circle of friends and is increasingly active in global affairs. It is showing it has much more to offer than just giant pandas and hotpot.
The city in September signed a memorandum with Milan and San Francisco to establish friendly partnerships with the two cities. To date, Chengdu has 28 sister cities and 39 friendly partner cities worldwide. Chengdu, the capital of southwestern Sichuan province, aims to become more international and create more development opportunities through cooperation and exchanges with international counterparts.
After signing the friendly partnership memorandum on Oct. 13 along with Ed Lee, the mayor of San Francisco, Chengdu government leaders talked with interested investors and professionals about the city's preferential policies, investment environment, and geographical advantages, to promote exchanges in funding and technology with the United States.
In addition to giant pandas, Chengdu is also a center for science and technology, businesses, trade, and finance; is the transportation and communication hub of western China; and is a base for advanced manufacturing, high-tech innovation, and agriculture products processing. The scholarships available for overseas students from sister cities to study in Chengdu, which the city government began offering last year. As of June, 157 students had obtained a scholarship.
Chengdu government leaders invited Lee to hold investment and trade activities in Chengdu next year together with other mayors from the San Francisco Bay Area. They also welcomed technology companies to take part in the innovative and entrepreneurial activities in the city.
To attract professionals from home and abroad to start businesses and improve innovation, and to encourage venture capitalists and entrepreneurs to invest in Chengdu, the city launched the Entrepreneurial Tianfu program early this year.
The program aims to establish a comprehensive support system for innovation and entrepreneurship by 2020 and gather 100,000 tech companies, which could generate annual revenue of 2 trillion yuan ($314 billion).
Lee said Chengdu is one of the most important cities in China, and he expects bilateral cooperation to be enhanced in areas including science and technology, logistics, economy, and trade.
Exchanges between Chengdu and San Francisco have deepened since United Airlines launched the Chengdu-San Francisco nonstop route in June last year. It was the first air route to link a city in China's western region to the U.S.
A delegation of nine Silicon Valley mayors and deputy mayors visited the city on July 12 to promote friendship and forge business cooperation. They said they were impressed by the innovative and entrepreneurial environment in Chengdu and said the city could develop into a "second Silicon Valley."
The delegation signed an international incubator agreement and a cooperation memorandum with government officials from 21 districts and counties in Chengdu.
The two locations plan to work on projects in high-tech and innovation areas, such as commercializing technological achievements and building science parks.
Chengdu signed its first sister city agreement in 1981, teaming up with Montpellier in France. It marked the countries' first sister partnership. Since then, Chengdu and Montpellier have held frequent exchanges at all levels, as cooperation has expanded from health care to culture, education, trade, and sports.
In October, the Chinese city hosted the 2015 Festival International Sports Extreme (FISE) Tour China with support from Montpellier for the second year, attracting 100,000 visitors. Last year, Chengdu also became the first Chinese host of the International Extreme Games, which originated in Montpellier. It will continue to host the event next year, in the newly built FISE park, a Sino-French joint venture and permanent site for the FISE Tour China.
In education, the sister cities have arranged Chinese- and French-language classes in each other's primary and middle schools. The French city now has six Chinese-language courses, from primary to high school grades. Each city also has a primary school named after the other. In March last year, the cities marked a milestone in cooperation in the field of health care, as they jointly opened a research center for diabetes and senility in Chengdu.
Chengdu is expected to soon establish friendly partnerships with Dubai in the United Arab Emirates and Penang in Malaysia, according to the Chengdu Foreign and Overseas Chinese Affairs Office.
Big numbers:
28
number of Chengdu's sister cities worldwide
39
number of friendly partner cities
268
Fortune Global 500 companies have set up operations in the city
15
number of foreign consulates in operation or due to be put into operation, the largest number in western China