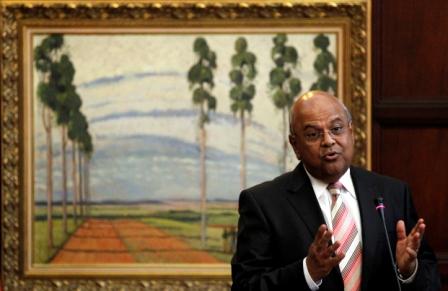 Growth expectations for South Africa have tumbled in recent weeks as the government struggles with growing budget and trade gaps. Brazil walked a similar path a couple of years ago – but can South Africa draw any lessons from that spectacular fall?
Economists nearly halved their 2016 GDP growth forecasts in January alone to a median 0.9 percent, from 1.6 percent in December. Such a souring in expectations is extraordinarily fast according to Reuters Polls data, which usually show incremental change over such a short period of time.
Sentiment on Brazil is definitely much worse, projecting the country's deepest recession in more than a century with an annual rate of decline close to 4 percent. But the initial downturn did not start as a free fall; economists started to trim their GDP expectations as early as in 2011 as authorities tinkered with budget and inflation targets.
Years of missed goals showed Brazil how difficult it is to rebuild confidence among consumers and investors. Interest rates are at their highest in nearly 10 years, and yet inflation remains at double digits.
Economists say South Africa also needs to walk a tight path to regain lost trust, a necessary ingredient to woo back investors and longer term growth.
They have an uphill battle.
Business confidence is at its lowest in nearly a quarter century, largely due to President Jacob Zuma's sudden move to sack his finance minister in December as well as instability in world markets that began not long after the United States Federal Reserve hiked interest rates.
There is a good opportunity later this month, with a crucial budget announcement in which Finance Minister Pravin Gordhan is expected to pull out all stops and prove to ratings agencies that the nation is still firmly on path to repay its debt obligations in a timely manner.
South Africa's companies are sitting on a pile of cash with relatively high price-to-earnings ratios, but have been reluctant to invest in the economy.
Colen Garrow, economist at Lefika Securities, says:
"Business confidence is an intangible factor, difficult to measure, especially when the economy is in recession, and there is uncertainty as to whether spin-doctoring by policymakers will yield any positive results."
"The rand exchange rate, for example, has not fully recovered from movements which took place in the finance ministry during December."
He added that threats of South Africa's twin deficits on the current account and the public finances have been compounded by further challenges. The economy appears more and more poised to enter a recession, perhaps more destabilizing and entrenched than the one last experienced in 2009.
In Brazil, much of the damage for Brazilian companies in terms of financing conditions and currency losses happened before Standard & Poor's and Fitch sent Brazil's sovereign debt rating back to the junk league last year.
Brazil earned its first investment-grade rating only in 2008 and already lost it by the two agencies. Chances are it will be downgraded even further, analysts say.
"Brazil has reached a point where stabilizing the debt dynamics is critical for confidence to return and reforms – which require significant political support – are needed to re-anchor fiscal expectations," wrote UBS in a client note.
There are a few crucial differences between both cases that make an economic crash less likely in South Africa.
Corruption may be as common in both but there are no massive police investigations ongoing in South Africa that threaten to put business magnates and politicians in jail.
President Zuma may be losing popularity but is not yet facing a serious impeachment process that paralyses legislative works and any reform attempts. And South Africa did not lose the World Cup it successfully hosted by a humiliating 7-1.
So South Africa may still have more wiggle room than Brazil did.