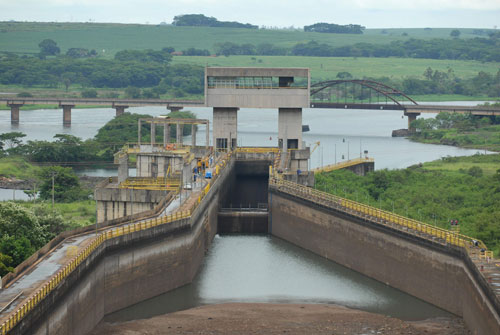 On Monday a barge train passed downstream on the Tiete River through the locks at the Nova Avanhandava hydro-dam for the first time since 2014, the paper said.
The barges will later head to Sao Simao in Brazil's central western state of Goias where they are expected to load soybeans, which will taken for export from the Port of Santos on the Atlantic coast near Sao Paulo.
Brazil's agricultural output is only rivaled by the United States, but its underdeveloped and expensive transport infrastructure is the country's main barrier to raising its share of world exports.
Brazil is the No. 1 exporter of sugar, coffee, orange juice, ethanol, tobacco, eucalyptus pulp, poultry and beef, the No. 2 exporter of soybeans, the No. 3 exporter of corn and a major exporter of cotton.
Water that could have helped maintain river and canal levels was used instead for electricity due to rising energy demand and the delay of giant new power projects. Sao Paulo, South America's largest city, came critically close to running out of drinking water.
Rains at the end of 2015 intensified in January, helping water levels on rivers in Brazil's southeast and central-west to recover from one of the worst droughts in decades.
The Tiete-Parana's closure forced more of Brazil's production from the key farming states of Sao Paulo, Parana, Minas Gerais, Mato Grosso and Mato Grosso do Sul onto more expensive and precarious road and rail systems.
On average, each of the Tiete-Parana system's barge trains can carry the equivalent of 200 highway trucks, according the Sao Paulo's waterway authority, the paper said. Another barge train was expected to pass up the Tiete through the Nova Avanhandava locks destined for Santos on Tuesday, Estado reported.