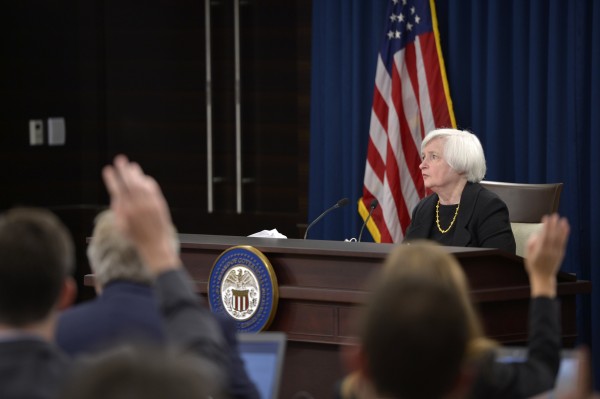 Even though European markets were in the red, stocks and currencies in emerging markets cheered the US Federal Reserve's decision to postpone a much-anticipated rate hike.
BRICS currencies firmed early on Friday after the US Federal Reserve kept interest rates on hold.
India's rupee on Friday climbed the most since March 2014.
The rupee climbed 1 per cent to 65.7950 a dollar as of 1:11 pm in Mumbai. The Fed's decision paves way for the central bank of India to cut borrowing costs for a fourth time this year.
By 0849 GMT on Friday the South African rand had gained 1.35 percent to 13.1800, with renewed appetite for emerging market assets lifting the currencies of these economies.
South Africa's central bank decides on rates next week when its three-day policy conference concludes on Wednesday.
It lifted interest rates by 25 basis points to 6.00 per cent in a borderline call in August, citing the rand's vulnerability to global market reaction to monetary policy in the US.
The central parity rate of the Chinese yuan also strengthened 63 basis points to 6.3607 against the US dollar on Friday, according to the China Foreign Exchange Trading System.
On Thursday the US Fed said economic and financial developments globally could restrain economic activity in the US, putting further downward pressure on inflation in the near term.
"Recent global economic and financial developments may restrain economic activity somewhat and are likely to put further downward pressure on inflation in the near term", the Fed said in a statement on Thursday.
"The committee expects inflation to rise gradually toward two percent over the medium-term as the labor market improves further and the transitory effects of declines in energy and import prices dissipate," it added.
However, the bank could still raise rates before year-end, with 13 of 17 Fed policymakers expecting it a hike this year.
The Fed's inaction came as good news for the Russian ruble as well.
At 08:15 GMT on Friday, the Russian ruble traded slightly higher against the dollar at 65.4 rubles. Overall, the ruble has gained seven per cent against the greenback since August 24.
The next Fed meeting is scheduled for October 27.
The FTSEuroFirst index of leading 300 shares fell 0.8 per cent in early trade on Friday to 1,413 points, Germany's DAX fell 1 per cent to 10,129 points, and France's CAC 40 was down 0.9 per cent at 4,615 points.
Britain's FTSE 100 index was also down 0.3 per cent at 6,170 points.
Emerging market equities rose to one-month highs on Friday, with MSCI's broadest emerging market index up 0.6 per cent and on track for the biggest weekly rise since early April, with 3.7 per cent gains.