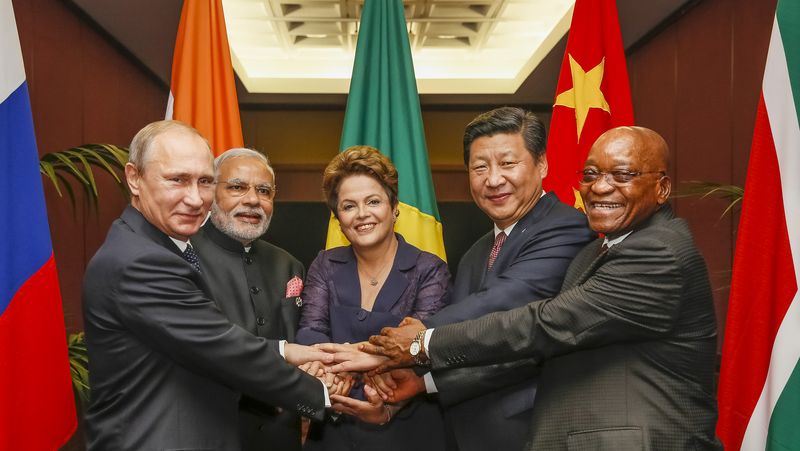 India's Prime Minister Narendra Modi said in a speech at San Jose, USA, in September that India was standing with all its strength among BRICS nations, when many analysts have referred to India as "the last standing BRIC of the BRICS," over the past one year.
India will be chairing the BRICS from February 2016 to December 2016 and will host the next BRICS summit. According to the Indian Prime Minister's proposed "Dus Kadam" (10 steps) for boosting cooperation, India's tenure as Chair will include a BRICS trade fair, a film festival and a football tournament, among other initiatives.
The BRICS, however, is not the talk of the town in India, it rarely gets attention of the national media and is hardly on the business or academic events' agenda. The foreign policy conclave hosted by Gateway House, India's prominent foreign policy think tank, in collaboration with The Government Law College in Mumbai, in September, was an exception as it touched upon new financial institutions such as the New Development Bank (NDB), formerly referred to as the BRICS bank, and Asian Infrastructure Investment Bank (AIIB). The debate, however, exposed certain pessimism among experts about BRICS and the NDB.
The NDB was set up to foster greater financial and development cooperation among the five emerging markets of BRICS. It has an initial authorized capital of $ 100 billion and initial subscribed capital of $ 50 billion, shared equally among the five nations. The bank began operations on 21 July 2015 in Shanghai where it is headquartered, a few weeks after the first meeting of its board of governors in Moscow, on the sidelines of 7th BRICS Summit in Ufa.
Both the NDB and $ 100 billion Asian Infrastructure Investment Bank (AIIB) led by China are positioned as alternatives to the existing West-dominated international financial system of Bretton Woods institutions, like the World Bank and International Monetary Fund predominant. Both NDB and AIIB have similar mandates: to foster infrastructure development in Asia.
Rajrishi Singhal, senior Fellow at Gateway House said these new financial institutions were prompted by developing countries not being adequately represented in Bretton Woods institutions, and shareholding and quota reforms in the IMF are being stalled after failure of the US Congress to ratify the agreement of 2010, to raise quotas.
According to Kevin Carmichael, Senior Fellow at Centre for International Governance Innovation (CIGI), there is optimism around the new development institutions, especially the China-led AIIB, which Carmichael saw as an extension of Chinese soft power. He said major European countries, including Germany, France, Britain and Italy, themselves the most influential members in the IMF and World Bank after US and Japan, have joined AIIB despite US pressure.
Unlike NDB, created by five BRICS nations, AIIB has 57 founding members, including all the BRICS countries, and around 20 more counties are expected to join. China's share in AIIB is close to 30 per cent while India is the second biggest partner in the bank with an expected share of 6-8%, followed by Russia and Germany.
The NDB, on the other hand, was created by five countries whose economies are going through tough times. Carmichael said. "I am very sceptical about BRICS and NDB. I will be really surprised if all this money allocated for it by BRICS counties will be really spent on what they are supposed to be spent," he said, adding that NDB seems far more mysterious than AIIB.
Singhal noted that though BRICS was created on an economic platform, trade and investments between five countries are negligible. Despite this incompatibility, BRICS as a group was able to deliver on its intent to create a bank. "Some of the sсepticism about BRICS has waned because NDB now is a reality. Although there are still some misconceptions about this bank, for example that it is going to compete with World Bank, but I think K V Kamath, NDB's president and his vice president Leslie Maasdorp made it very clear that NDB is not there to rival World Bank. The sсepticism is going away bit by bit, because there are some achievements by now," Singhal said in an interview with RIR.
He said "we have to wait till the bank becomes operational and writes its rules, puts policies in place, defines the governance structure, while the next step for NDB is to give credible loans that will go towards building infrastructure and sustainable development in BRICS countries and beyond."
"People will watch very carefully what NDB will do with the funds, how much it will lend and what will be the lending policies, will NDB be a small marginal player or will it be a large multilateral bank, and what is its vision to grow in next 25-30 years," Singhal said.
A source in Vnesheconombank, Russia's national development bank, familiar with the developments at the NDB, told RIR on condition of anonymity that India has made a right choice appointing K V Kamath as the president of the new institution. "Mr. Kamath not only has great experience of creating large banking mechanism within India, he has years of experience with Asian Development Bank and therefore understands well the ins and outs of such institutions, the problems and challenges they face and the possible ways to overcome them," he said.
The Second Meeting of the Board of Directors of the NDB will be held after 20 November, said Sergei Storchak, Russian Deputy Finance Minister who has been appointed Russia's director at the NDB. The meeting will focus on breakthrough decisions for drafting the bank's internal policies, Storchak recently told journalists.
The first President of the NDB, nominated by India's government, India's eminent banker K V Kamath said earlier that NDB is likely to start lending by April 2016 and will initially focus on sustainable projects in member countries. BRICS states are likely to make their first contributions to the bank early next year, providing the management with resources to fund projects.