Bloomberg New Energy Finance has ranked China at the top spot on a list of 55 countries on ease of doing business in the renewable energy space.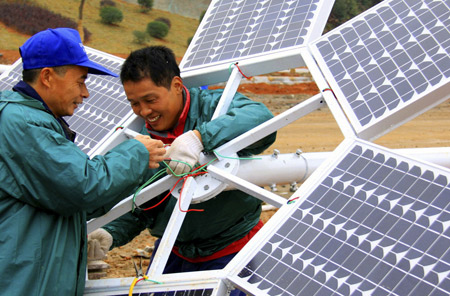 China invested $89 billion in clean energy in 2014, representing the country's commitment to a low-carbon future.
The global investment index backed by Britain, the United States and the Multilateral Investment Fund (MIF), measures and ranks the investment climate for clean energy in developing countries.
China scored the highest at 2.29 on a 0-5 scale on the list of clean energy investment and deployment after topping the list last year with a score of 2.23, according to Climatescope 2015.
The report also found that most of the clean energy investment came from the global south and not from the rich club of the OECD countries.
The ranking done by Bloomberg New Energy Finance's annual Climatescope report indicates "clean energy activity is shifting inexorably from "north" to "south", from developed to developing countries".
"For the first time, over half of all new annual investment into clean energy power generating projects globally went toward projects in emerging markets," said the report.
The report ranked China in the first place, followed by Brazil, South Africa and India.
The index is designed to both encourage governments to reform outdated regulation and boost investment from the private sector. One key complaint from international investors looking to finance developing world energy projects is a lack of clear, reliable information on risks and regulatory issues.
The annual report, sponsored by Britain's Department for International Development and the US Agency for International Development, surveyed 55 of the world's most important developing nations on their performance with clean energy investment and deployment.
In addition, China added 35 GW of new renewable power capacity on its own last year, more than the entire operating capacity in sub-Saharan Africa's 49 nations combined, excluding South Africa and Nigeria, said the report.
"China continues to play a critical role in clean energy's evolution, not just in emerging markets but in all countries," said the report.
"It is notable that the majority of the $126bn invested in Climatescope countries did not emanate from OECD countries. Rather, it was south-south investment within the 55 nations that accounted for $79bn of the total, with the balance ($47bn) represented by north-south flows," it added.