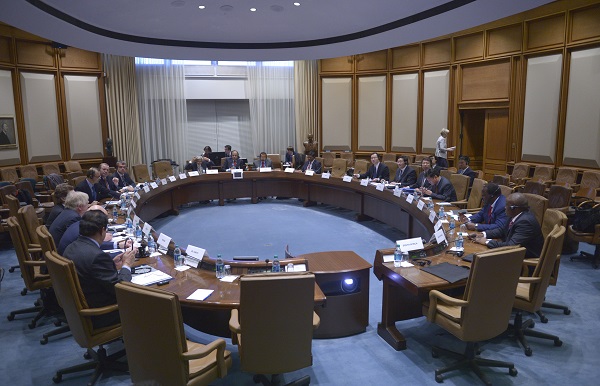 The New Development Bank, the just-opened institution co-owned by the BRICS countries of Brazil, Russia, India, China and South Africa, has announced its first investments.
The BRICS Bank on Friday announced that its Board of Directors has approved its first set of loans involving financial assistance of $811 million, to be disbursed in tranches, supporting 2,370 MW of renewable energy capacity.
The fifth board of directors meeting was held in Washington on the sidelines of the IMF and the World Bank group spring meetings.
The new lender is providing $300 million to Brazil, $81 million to China, $250 million to India and $180 million to South Africa.
The project from India entails provisioning of a multi-tranche loan of $250 million to Canara Bank for lending to renewable energy ventures.
"Each loan modality is different based on project specific features and borrower preferences. Government approvals, where necessary, will be sought as part of follow-up procedures," said a statement from the New Development Bank.
The first batch includes four projects, one each in Brazil, India, China and South Africa.
"This is an important milestone for the Bank and we are delighted to have met the goals and the time schedules envisioned by the leaders of the BRICS countries. With this we embark on a journey to provide speedy assistance to projects across developing nations. We are pleased that the projects deal with green and renewable energy and hope they will act as catalysts for development in our member states," BRICS Bank President Kundapur Vaman Kamath said in Washington.
The BRICS have brought in capital of $1 billion as initial contribution for the new lender.
"There are many more new projects in the pipeline including projects from Russia. They are at various stages of consideration or appraisal," the NDB spokesperson said.
The NDB board has approved the issuance of five-year bonds in Chinese yuan, Russian Finance Minister Anton Siluanov was quoted on Friday as saying.
"The bank will raise funds on the Chinese market and once it receives a rating from international rating agencies it will also tap international markets," Russia's Interfax news agency quoted Siluanov as saying.