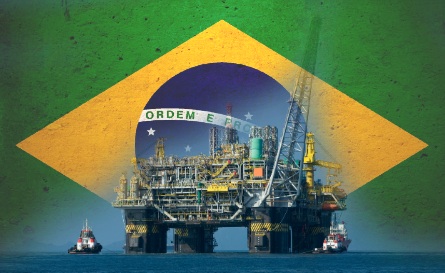 Dec 30 Brazil's Rio de Janeiro state, facing a budget shortfall caused in part by plunging oil prices, imposed new taxes on petroleum and natural gas on Thursday, a move critics say will slash investment in an already battered industry.
Brazil's economy is suffering its worst recession in decades, while a corruption scandal at Petrobras, as the state oil company is known, has choked off investment and delayed new output.
Rio de Janeiro state's financial crisis has reached a point where universities and health services have suffered cuts and many public servants have not been paid in more than a month. The sick have been turned away from hospitals.
Rio de Janeiro, responsible for 67 percent of Brazil's crude output and 40 percent of its natural gas, will charge a flat tax of 2.71 reais ($0.69) on every barrel of oil and gas produced in the state. The government hopes the tax will raise about 1.84 billion reais ($476 million).
The state also imposed an 18 percent goods and services tax on each barrel of oil or natural gas equivalent produced. The tax will be applied on the reference price for each well's oil set by Brazil's oil regulator, ANP.
According to the text of a law published on Wednesday, the flat tax was imposed to better regulate and supervise petroleum operations.
Among the state's main producers are Brazilian state-controlled oil company Petroleo Brasileiro SA, BG Group Plc, Royal Dutch Shell Plc and Portugal's Galp Energia SGPS SA.
"The increased tax burden on the sector will result in reduced investment in the area, an even greater reduction of royalties and windfall profits taxes as well as of jobs and income in the country, with impact in the short, medium and long term," IBP, the group representing oil producers in the country, said in a statement.
IBP said the taxes are illegal and that it will challenge them in court.
Organizers of the Rio de Janeiro 2016 Olympic Games scheduled for August have been forced to make cuts to their budgets as they scramble to finish construction and other preparations.
On Dec. 14, Governor Luiz Fernando Pezão warned he would impose new taxes if the ANP did not update its reference price calculation to account for growing output of higher quality, higher priced light crude from fields south and east of Rio.