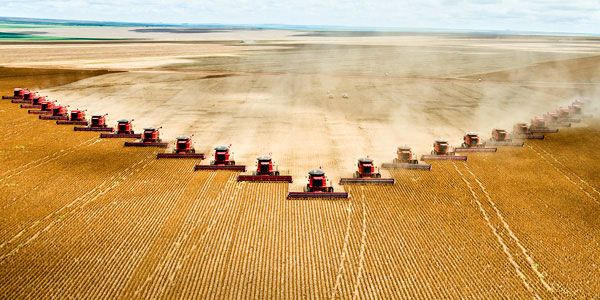 Brazilian trading house CGG expects the country's main ports to shift grain exports away from corn, which remained firm last month, to soyabeans starting in March as harvest of the crop picks up in the interior of the country. Brazil's Trade Ministry reported that corn exports reached 5.4 million tonnes in February a record for that month and the third highest month on record after the country shipped an all-time high of 6.3 million tonnes in December.
"I expect corn exports to drop off from February as the market turns its focus to soyabeans," CGG Trading President Luiz Aguiar told Reuters in an interview, adding that the firm loaded its last corn shipment of the season a couple weeks ago. The shift may help US corn exports as demand for the grain turns to other origins.
Local analysts are reporting the harvest of the country's roughly 100 million tonne soyabean crop has surpassed 30 percent and that the flow of the commodity to ports is quickening. Ship line-ups waiting to load the beans are also growing. Aguiar said Brazilian corn production had made impressive advances in competitiveness in the past few years, after the country unexpectedly became the world's No 2 exporter following the 2012 drought over the US grain belt.
"We used to talk of 60-70 bags a hectare but now we are talking about 110 bags," Aguiar said, referring to the 60-kilogram (132.3 lb) bags reaped. He said local farmers were acquiring know-how, better fertilizers and seeds to help them stay competitive, long after the 2012 US drought. CGG exported 1.7 million tonnes of corn in 2015 up from 1.3 million in 2014. It also exported 1.8 million tonnes of soya last year, up from 1.4 million in 2014. In all, the firm moved 4 million tonnes of mostly soya, corn and cotton in 2015, up from just over 1 million tonnes only three years ago.
The trading firm, which also has operations in Argentina, does not expect to grow as quickly this year as it focuses more on consolidation and efficiency after rapid expansion in the past years. It is one of four firms in a consortium that controls the Tegram grain export terminal in Itaqui, Maranhao, in northern Brazil, which moved 4 million tonnes of mostly soya and corn last year and is one of Brazil's most competitive grain ports. Source: Reuters