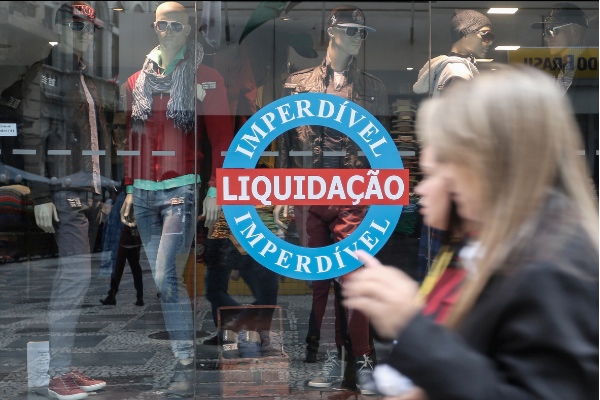 The Brazilian economy contracted 1.7 per cent in the third quarter of the year over the previous quarter, signalling a prolonged recession, according to figures released Tuesday.
Gross domestic product (GDP) fell 4.5 per cent year on year in the third quarter, said the government statistics agency, IBGE. In the first nine months, the economy contracted 3.2 per cent compared with the same period in 2014.
Almost all sectors contracted quarter on quarter. Agriculture fell 2.4 per cent, industry 1.3 per cent and services 1 per cent. Investment fell 4 per cent quarter on quarter and 15 per cent year on year.
Household consumption fell 1.5 per cent from the second quarter and 4.5 per cent year on year.
Public sector consumption was the only area where a quarter-on-quarter increase of 0.3 per cent was registered. However, it fell 0.4 per cent year on year.
Brazil's investment rate fell to 18.1 per cent of GDP, down from 20.2 per cent in the same period last year. The country's savings rate, meanwhile, fell to 15 per cent in the third quarter from 17.2 per cent.
The Brazilian Central Bank's reports say that government measures are just not working to resuscitate the ailing Brazilian economy.
The government has in response to the fiscal crisis revived unpopular taxes amid several austerity measures.
In early October, Brazilian President Dilma Rousseff announced a major cabinet reshuffle saying her government will eliminate eight ministries and reduce remaining ministers' salaries by 10 per cent, among other cuts.
The move appeared to express solidarity with less privileged sectors of the society that have seen social programs curtailed as the government reacted to an economic slowdown by implementing unpopular austerity measures.
Brazilian Finance Minister Joaquim Levy said the government is "reducing expenditures, because people are not that tolerant of taxes.
"But then you have to do whatever it takes to get to a 0.7" per cent primary budget surplus, Levy said, referring to the government's 2016 target.
"We have to do that as soon as possible, because the longer it takes, the higher the toll for the economy."
Jorge Arbache, a professor of economics at the University of Brasilia, says that Brazil is going through one of its worst ever economic crisis.
The crisis has more immediate causes associated to the political crisis and exhaustion of the recent growth spurt based on consumption and public spending, he says in an op-ed for The BRICS Post, but also much deeper causes associated with low productivity and competitiveness.
"A new development model is long overdue and the more Brazil procrastinates to recognize it, the greater will the challenges be to ensure a competitive economy in the 21st century" he says.