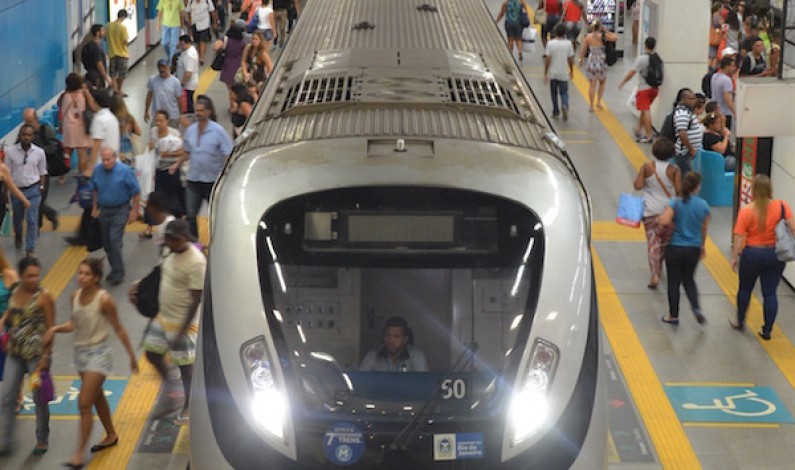 In an effort to expand the Metro subway system, the Department of Transportation, with RioTrilhos a group of rail operators in the state, will launch an initiative in January of this year, called the Plano Diretor Metroviário (PDM, Master Subway Plan), which is scheduled to be presented to the public by March 2016.
According to government news sources, the plan will define new expansions of the Metro subway, as well as its integration with other forms of developing transportation like the VLT and BRT bus system, by 2045. It will mark the first subway expansion plan drawn up by the State since the implementation of the transportation system in Rio in 1979.
The Secretary of Transportation, Carlos Roberto Osorio, affirmed how effective the PDM project will be in expanding the state's Metro and transportation system, mentioning how specialists will be working along side technicians and engineers from RioTrilhos.
"The state has hired Brazilian subway specialists to develop this project. The goal is to plan the growth of the network and the integration with other high-capacity transport modes in Rio and the metropolitan region," said Osorio.
"The Plano Diretor Metroviário takes into account the Transportes Urbanos (Urban Transport Plan), which shows the travel needs and demands of origin and destination for Rio de Janeiro, and Rio de Janeiro 's metropolitan area."
According to Osorio, priorities of the plan are the expansion of Line 2, for the stretch of Estacio-Carioca- Praça XV, and the implementation of Line 3 in the cities of Niteroi and São Gonçalo.
Authorities say planning groups will be considering socioeconomic data from the Brazilian Institute of Geography and Statistics, so that issues of existing populations, studies in dislocation, investments in infrastructure, among other concerns can be considered throughout the process.
Presentations about the PDM have already been conducted for residents and merchants in Tijuca, Usina, Grajaú, Andaraí, Rio Comprido, Catumbi, Centro, Méier, Engenho de Dentro, Engenho Novo, Vila Isabel e Jacarepaguá.