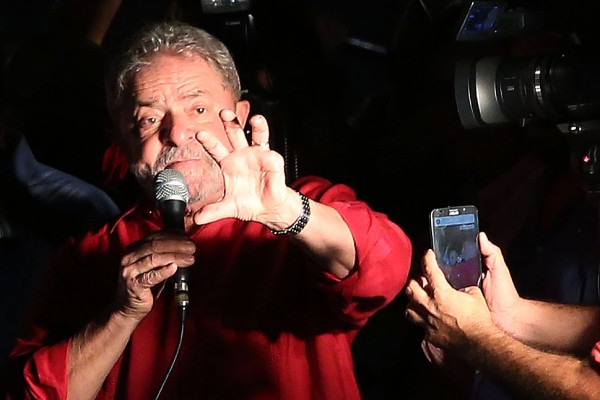 The Brazilian government is this week battling efforts by the opposition to have former president Lula da Silva arrested on charges stemming from his alleged role in the Petrobras corruption scandal.
And President Dilma Rousseff on Tuesday accused those trying to impeach her of trying to carry out a coup against democracy.
As polls appear to show more Brazilians in favor of her stepping down amid allegations of her role in a Petrobras corruption scandal, Rousseff says she is guilty of no crime and is holding firm.
"I will never resign, not under any circumstances," she told reporters.
Meanwhile, police officials said they had carried out raids and detentions of several figures allegedly linked to the scandal.
Late last week, Rousseff appointed Lula as her chief of staff, which the opposition claim was a ploy on her part to delay his prosecution.
The opposition was handed a boon late Friday when a Supreme Court Justice ordered that Lula's appointment be suspended.
The government a day later asked that he be overruled and that Lula's case remain with the Supreme Court where it could lie in limbo for months as opposing lawyers file injunctions.
The back and forth political posturing has tired Brazilians who are already worried about the state of their economy which is at its worst in decades.
Even if Rousseff – who has an approval rate of 10 per cent according to polls on Sunday – is impeached, Brazilians have a very low opinion of her likely successor.
The Datapolha survey also showed that 68 per cent of those polled want Congress to impeach the president.
But 35 per cent said Lula was the best president in Brazilian history.
On Friday, Lula praised the tens of thousands of supporters of President Dilma Rousseff who were out on the streets to show solidarity.
In a massive show of strength, Rousseff and Workers Party supporters carried red flags and chanted "No coup" in the streets of Sao Paolo, Brasilia and Rio de Janiero on Friday.
In Sao Paolo, Lula said those campaigning for an impeachment are retaliating against their defeat by Rousseff in the 2014 presidential polls, referring to the Brazilian Social Democracy Party (PSDB).
The polls capture the frustration of a populace that has been struggling with the worst economic recession in more than 25 years and amid fears of the spread of the Zika virus.
A final Supreme Court ruling on Lula's situation is expected on March 30.