Brazilian unions held nationwide protests Friday against the federal government's austerity measures and a bill that would allow companies to outsource any part of their operations. unions held rallies in 23 of Brazil's 27 states to protest the outsourcing proposal and a separate bill that would restrict access to unemployment insurance, both of which are nearing full legislative approval.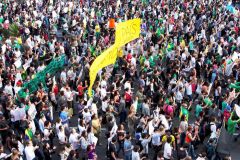 The bills are part of the government's bid to get Brazil's fiscal house in order after federal, state and local governments ended 2014 with a cumulative primary budget deficit (before interest payments) equivalent to around 12.5 billion dollars, putting public finances in the red for the first time since the current reporting methodology was adopted in 2001.
But the austerity measures implemented by the Dilma Rousseff administration have sparked controversy because of their potential impact on workers at a time when the economy is contracting and unemployment is on the rise.
In Sao Paulo, Brazil's most populous city, a protest by the public University of Sao Paulo's labor unions led to clashes between some demonstrators and police, who used tear gas and stinger rounds. The demonstrators blocked some of the city's main thoroughfares, while some 5,000 factory employees in Sao Paulo's industrial belt held a work stoppage.
Friday's protests were organized by a group of six labor confederations, including the CUT, which is Brazil's largest and closely allied with the ruling Workers' Party, and received the support of some social movements.
They are a prelude to a possible general strike that would be convened if Congress gives final approval to the controversial outsourcing bill, the unions say. The legislation, which will allow companies to outsource any of their business activities, is before the Senate after being passed by the lower house.
On Friday, Brazil's IBGE statistics agency said the economy, which has been affected by austerity measures crafted by Finance Minister Joaquim Levy, contracted 0.2% in the first quarter compared to the final three months of 2014.