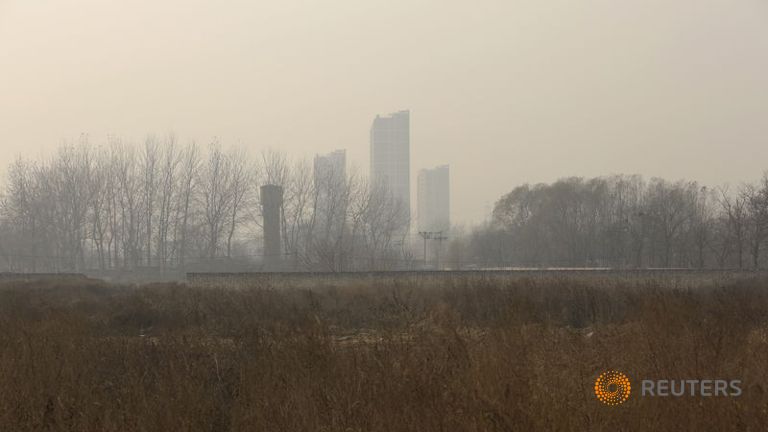 BEIJING: In the Chaoyang district of northeast Beijing, a nondescript wall covered in patriotic posters protects one of the city's most valuable treasures: a dirt field containing nothing but a few scattered trees.
Last month the block sold for 3.3 billion yuan (US$515 million), according to Beijing Municipal Bureau of Land and Resources data, meaning the cost to the developer of each apartment built will be above the price at which nearby homes currently change hands, once a commitment to build a quota of affordable housing is factored in.
"The flour is more expensive than the bread," said Guo Yi, market director at Yahao, a real estate consulting agency in Beijing, using a Chinese proverb to describe how undeveloped land in some prime locations has become more expensive than second-hand apartments. "We see increasing risks."
Such speculative pressure underlines a growing distortion in China's housing market.
While property prices in much of China are still falling, a rebound is under way in the biggest cities, bringing with it the return of land speculation that could stoke another bubble and widening the economic gap between "tier 1" centers and the rest.
In the Chaoyang project, the winning developer, a joint venture between Poly Real Estate Group and Beijing Capital Development, agreed that more than half the housing on the site would be built under a government affordable housing scheme.
The scheme aims to allow more of China's middle and lower income households to share the dream of owning their own home, but also makes the project more expensive for the developer.
Analysts said the 41,964 sq meter (451,697 sq ft) plot equated to a maximum 117,498 sq meters (1,264,738 sq ft) of apartment space, meaning the developer was paying 28,086 yuan per sq meter, rising to more than 60,000 yuan per sq meter when the cost of building the affordable housing was included.
At that price, the commercial housing to be built on the site would need to be sold for more than 100,000 yuan (US$15,600) per sq meter, around triple the price of existing homes nearby, for the project to be profitable, analysts said.
Another option would be to try to resell the plot at a profit.
"It sounds crazy to me that prices could reach so high," said a woman surnamed Wang who lives in a nearby affordable housing project. "It just doesn't seem worth it to me."
Divergent Trend
Beijing's buoyant land market typifies an emerging trend. Leading developers are buying new lots of land in major cities amid a backdrop of improved property sales and a loosening monetary environment.
"Developers are making land grabs in big cities because everyone thinks first-tier cities are safe," said a senior official at a medium-sized listed property company in Beijing, who declined to be identified as he was not authorized to speak to the media. "We are worried about risks of overheating."
On a nationwide basis, house prices posted their first annual rise in 14 months during October, a weighted average gain of 0.1 percent. On a monthly basis, prices rose 0.2 percent, official data showed.
Even a modest recovery in a sector that accounts for 15 percent of gross domestic product is a welcome boost for an economy heading for its weakest growth in 25 years.
But the gains were largely concentrated in major cities, reflecting an increasingly unbalanced housing recovery.
Prices in Shenzhen rose 39.9 percent in October from a year earlier, while the were up 10.9 percent in Shanghai, and 6.5 percent in Beijing. In monthly terms prices rose in only 27 of 70 cities, however.
Local government revenue from land sales in China's 10 biggest cities rose 24 percent in October from a year earlier, a private survey showed.
While there are ceilings on land prices, some local governments are auctioning land bundles – land and a commitment to build a set amount of affordable housing – that makes the cost of building non-social housing much higher.
That has the effect of pushing up property prices in major cities, where demand is strong. But outside the top-tier cities, excess supply and a weaker economy are discouraging new construction and investment.
The average residential land prices in first tier cities, including Beijing, Shanghai, Guangzhou and Shenzhen, reached 17,680 yuan per sq meter in the third quarter of this year, compared with 2,377 yuan in smaller third tier cities, according to data from China's land ministry.
"Land is more expensive than second hand houses in some parts of Beijing, but not everywhere, because developers are confident that real estate prices in will continue to rise," said a property developer at one of China's state-owned enterprises.
"I wouldn't say the Beijing property market is overheated, it's just warm."