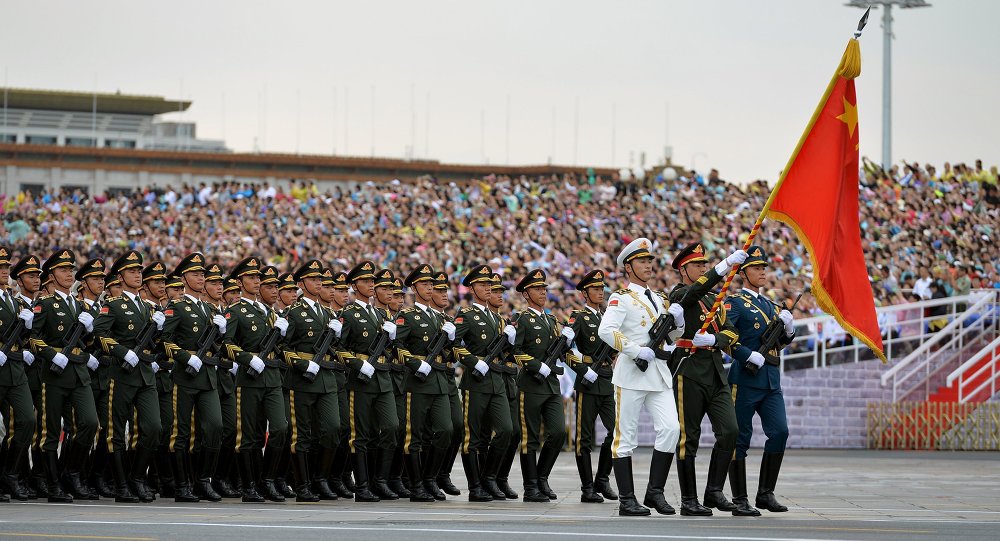 Nearly 5,000 troops from 18 countries marched past Tian'anmen Square; over 500 tanks and armor vehicles mounted with drones and missiles rumbled by. They were saluted by nearly 200 military aircraft roaring overhead.
China put on a massive military parade Thursday to mark the 70th anniversary of the end of World War II and what it calls the Chinese People's War of Resistance against Japanese Aggression.
It was a picture-perfect parade to show the world how far the country has come after a bitter victory seven decades ago, and also how far it could go for its hard-won peace and order.
Chinese President Xi Jinping observed the parade for the first time as the country's top leader.
Seventy-gun salutes at 10 a.m. set the official celebrations in motion.
Guards of honor marched on a red carpet that stretched between two Great Wall-shaped parterres in Tian'anmen Square with signs that read 1945 and 2015, to raise the national flag.
The sun shone in a stunning blue sky. Red flags on the symbolic Gate of Heavenly Peace fluttered in light breeze.
On the Tian'anmen Rostrum where late Chinese leader Mao Zedong pronounced the birth of New China 66 years ago, Xi, dressed in a sharply cut, high-collared Mao suit, highlighted China's aspiration of peace.
"China will remain committed to peaceful development. We Chinese love peace. No matter how much stronger it may become, China will never seek hegemony or expansion. It will never inflict its past suffering on any other nation," said Xi.
He was joined by dozens of heads of state and government as well as international organizations including UN Secretary-General Ban Ki-moon, Russian President Vladimir Putin, and Republic of Korea President Park Geun-hye.
The United States, Britain and France sent government representatives.
It's been 84 years since China was dragged into war following Japan's invasion of northeast China in 1931. In the fourteen years that followed, over 35 million soldiers and civilians were killed or wounded in China, the main oriental theatre of WWII.
Japan signed its formal WWII surrender on Sept. 2, 1945, and China celebrated its victory the following day.
"The victory of the Chinese People's War of Resistance Against Japanese Aggression is the first complete victory won by China in its resistance against foreign aggression in modern times, said Xi in his speech prior to the parade.
"This great triumph opened up bright prospects for the great renewal of the Chinese nation and set our ancient country on a new journey after gaining rebirth," Xi said in his about 10-minute address.
The Chinese president then mounted a black open-top Red Flag limousine as he reviewed troops who stood to attention down the length of Beijing's magnificent Chang'an Avenue.
"Follow the Party! Fight to win! Forge exemplary conduct!" over 10,000 servicemen and women saluted Xi and exclaimed.
At the height of the celebrations, helicopters carrying China's national flag and the People's Liberation Army (PLA) flag drew the curtains for the much-anticipated military parade. This was the 15th parade held by China since 1949. All previous 14 were held for National Day celebrations.
On the ground, WWII veterans, chest bristling with medals and waving, rode on convertibles amidst tides of applause.
For the first time, veterans from counter-Japanese forces led by both the Communist Party of China (CPC) and Kuomintang (KMT), who fought for the Chinese nation's freedom simultaneously during WWII, took part in a military parade together.
From afar, the saluting veterans looked straightfaced but spirited. Only the occasional shake of hands betrayed their inner thrill.
Next came the PLA guards of honor and 10 foot formations – each named after a morale-boosting battle fought by CPC-led troops during WWII or Chinese war heroes and model combatants. They marched by with impeccable synchrony and coordination.
But the highlight for many of the 40,000 audiences present and hundreds of millions more who watched the parade on television or Internet was the first-ever participation of foreign troops in a Chinese military parade.
Nearly 1,000 foreign troops from 17 countries including Russia marched at the heels of their PLA counterparts, drawing waves of cheers and applause.
China, together with Britain, the former Soviet Union and the U.S., were among key members of the victorious WWII Allies.
The 70-minute parade also included a host of China's home-made conventional and nuclear weaponry that bespoke the PLA's long march from an army mainly composed of infantry more than 70 years ago to a now modern military force.
On display were China's newest models of intercontinental nuclear-capable ballistic missiles and anti-ship ballistic missiles.
Other cutting edge weaponry included the PLA's state-of-the-art tanks, its new generation of airborne early warning and control aircraft, carrier-based fighters and attack helicopters which streaked low across the skies.
"I was not aware of how technologically advanced the Chinese army is (before I came here)," Serbian formation leader Marko Marjanovic told Xinhua prior to the parade.
"Our country, which was Yugoslavia at the time, was conquered by foreign occupying force and we also fought for freedom in the same way (as the Chinese)," Marjanovic said. "We see the similarities in there… Serbian people cherish the tradition of (commemorating the end of) WWII."
"Every country, every nation has its own way to pass on its memories between generations. This parade is the perfect way for us," said Katie Chan, honorable chairwoman of Hong Kong-based art concept culture institute.
"It reminds us that peace is hard-won, and that only by embracing the past could we build a better future," she said.