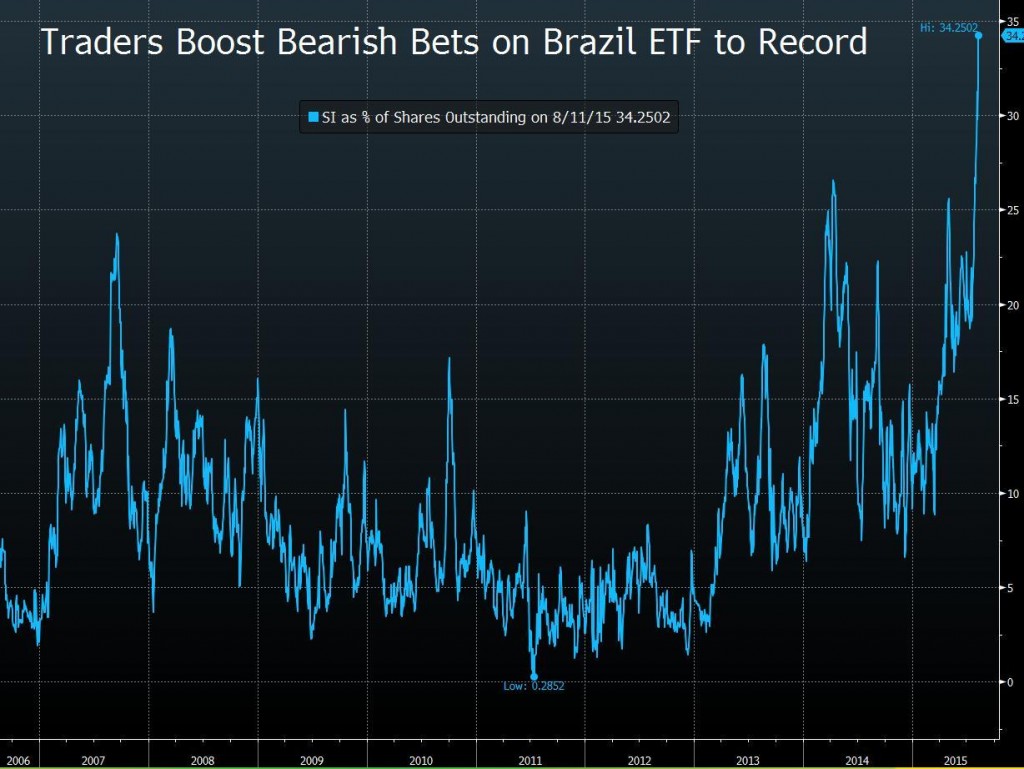 Bets on further declines in Brazilian shares climbed to a record amid forecasts Latin America's largest economy is heading toward the worst contraction in 25 years. The Ibovespa led losses in the Americas.
Short interest in the iShares MSCI Brazil Capped exchange-traded fund was at 34.3 percent of shares outstanding as of Tuesday, according to data compiled by London-based Markit and Bloomberg. That's the highest since at least 2006. The benchmark stock gauge slumped to a five-month low.
The Ibovespa has plunged 17 percent from this year's peak in May as the government struggles to shore up the budget amid a widening political crisis and a graft scandal at the state-controlled oil company. The slide intensified this week after a devaluation of the Chinese yuan fueled concern Brazil's top trading partner will slow further.
'Perfect Storm'
"It's the perfect storm," Vitor Suzaki, an analyst at brokerage firm Lerosa Investimentos, said by phone from Sao Paulo. "There's a lot of uncertainty in the political scenario, and that can bring even more instability to Brazil's economy. In addition, the Chinese situation can add more pressure."
The Ibovespa lost 1.4 percent to 48,388.05 at the close of trading in Sao Paulo. The slide pushed its valuation to the lowest level since March, according to data compiled by Bloomberg based on estimated earnings. Steelmaker Usinas Siderurgicas de Minas Gerais SA extended a five-day plunge to 12 percent. The real traded near a 12-year low.
Stocks joined a rout in emerging-market equities as a weaker Chinese yuan dimmed prospects for exports to the Asian nation. The measure for developing-nation shares sank to the lowest level since 2011, extending a selloff from its peak in September to more than 20 percent.
Retail Sales
Brazil's retail sales in June fell for the fifth straight month, as the central bank signals it will hold interest rates at a nine-year high. Even in the face of a looming recession, above target inflation continues to accelerate, eating into wages and pushing President Dilma Rousseff's approval rating to record lows.
Moody's Investors Service reduced Brazil's rating to the cusp of junk Tuesday, in the second downgrade since Rousseff came to office. Brazil's grade was cut by one notch to Baa3, with a stable outlook. Brazil is rated BBB- by S&P, which on July 28 changed the outlook to negative, indicating that a downgrade is more likely than an upgrade.
Six out of the 10 groups in the MSCI Brazil Index retreated as banks tumbled. Phone company Telefonica Brasil SA posted the biggest decline in the Ibovespa.
Gerdau's Earnings
Gerdau SA, Latin America's top steelmaker, extended a two-day slide after posting quarterly earnings that were in line with estimates as higher sales in North America offset a slump in Brazil. The company has trimmed investments, shut units and halted the expansion of its iron-ore business as it attempts to reduce leverage.
Marfrig Global Foods SA, Brazil's second-largest beef producer, rallied to the highest level this year after cutting its domestic slaughtering capacity by 29 percent amid higher cattle prices and reduced supply.
With Brazil's real leading losses among major global currencies in 2015, international investors in the Ibovespa are feeling the pinch even as stocks hold up in local-currency terms. The stock gauge has plunged 26 percent this year in dollar terms, the most among the world's biggest equity markets. That compares with a 3.2 percent decline in reais.