New Delhi: The Indian media and entertainment sector is one of the best performing sectors, growing 10% annually over the past five years, but is still underperforming, offering scope for a much larger growth, says a report jointly published by the Boston Consulting Group (BCG) and the Confederation of Indian Industry (CII) that was released at the CII Big Picture Summit, a media industry conference on Monday. Advertising, for instance, is only 0.33% of GDP in India compared with the global average of 0.64%.
The report titled Shaping the Industry at a Time of Disruption predicts the industry size to touch Rs.1.15 trillion by 2015-end and Rs.3.8-5 trillion by 2025. A few consumption metrics point to India being a significant global player in this sector—it has world's third largest television viewership base (after the US and China), the world's second largest print industry (in circulation terms) and produces the highest number of films worldwide (1950+ films produced in India in 2014).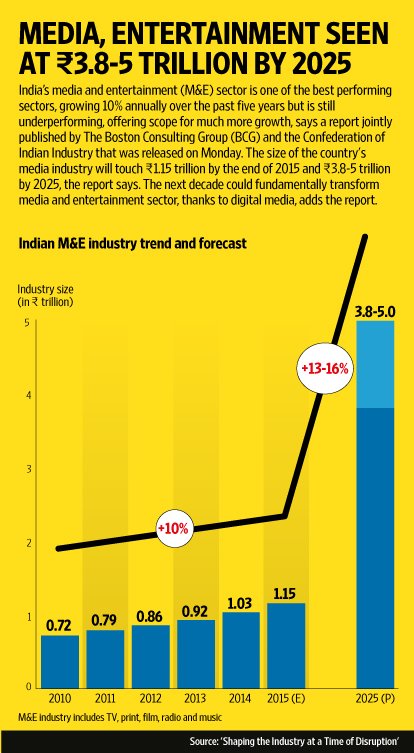 The report says that the next decade could fundamentally transform the sector, thanks to the digital media. "Unlike in the West, where many parts of the industry are struggling, India's unsaturated markets brim with opportunity. Demand levels are set to surge as vast, latent consumer segments are tapped. On the other hand, the advertising pie is poised to expand on the back of robust economic growth. If India could reach China's media consumption levels, it could create an incremental 'Billion media hours' a day."
In India, this growth has come on the back of macroeconomic factors like rising gross domestic product (GDP), strong economic activity and increasing consumer income coupled with industry initiatives like improving addressability, content innovation and deeper segmentation.
"At the core of this optimism is the fact that the underlying Indian consumer trend is positive," said Kanchan Samtani, partner and director at BCG. "Unlike mature Western markets, digital media could expand the overall market size by tapping into latent demand and driving new media consumption rather than merely replacing other, more traditional platforms."
Globally, digital has hurt print, music the most and TV, radio, films to a lesser extent. But India could be very different. Its monetization benchmarks—both for subscription and advertising—are substantially different, says the report.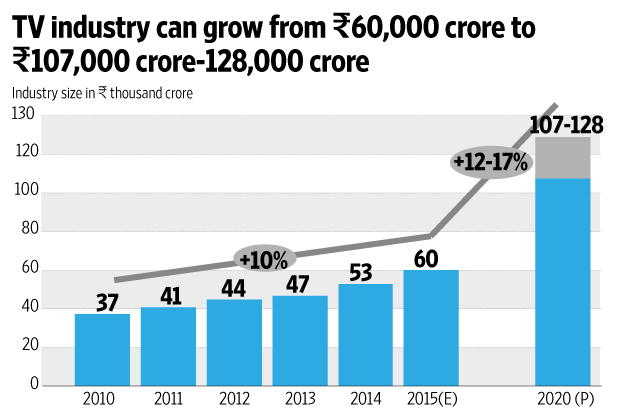 In India, a couple of factors have driven advertising growth at 10%, subscriber growth at 4-6% and per capita media spend growth at 9-10% over the past five years. Even newsprint circulation, which has been declining globally, continues to grow in India on the back of rising literacy and income.
India is gearing for a consumption explosion as per this latest media industry report. "India already has 250 million digital screens (including smart phones, tablets, laptops and PCs), which is more than the number of TV and film screens put together. This number is projected to multiply to 600 million by 2020, implying that every second Indian will have a personal media consumption device."
"Ours is an industry that is perpetually on the cusp of disruption. Dealing with these forces of disruption has become a habit for most of us. That said, we often suffer from 'tunnel vision' and tend to focus solely on the sectors we play in," said Sudhanshu Vats, chairman, CII National Committee on Media and Entertainment and Viacom 18 Group CEO.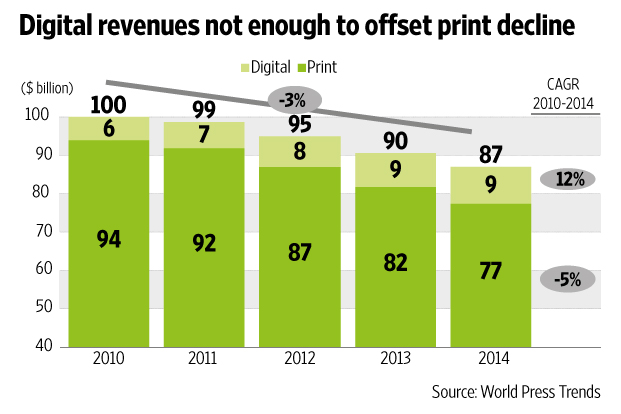 According to the report, new consumption behaviours will get created with always-on, on-the-go, on-demand and seamless pick-where-you-left models across multiple devices and time frames. "The distinction between prime and non-prime time will become redundant due to these changing patterns and behaviours of online consumption. It will also create fragmented audiences," added the report.
Consumers will gravitate towards the most popular content or niches of personal interest. "There could be significant disruption in sourcing models. The sheer volume of content is also exploding with user-generated content and cheaper content models are emerging, challenging the premise that good content must be expensive," as per the report.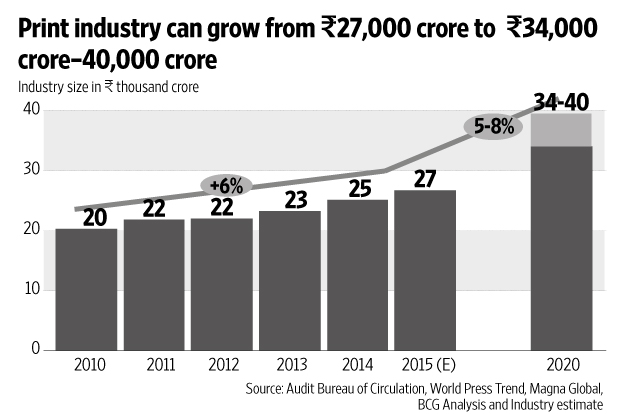 Another trend identified in the report was that advertising will need to be reimagined in terms of metrics, formats and techniques " Metrics revolving around prime time and front page will become archaic as the focus moves to "my time" and "my page". With the ever-increasing choice of content and the popularity of time-shifted and on-demand viewing, measuring viewer behaviour will become increasingly critical as it will facilitate targeted advertising. Further, there is a fast growing need for innovative and newer ad formats for effective monetization."
"Netflix with its $8/month offering disrupted the $80/month pay TV connection in the US, but digital pay TV, priced at under $5/month, is already one of the cheapest items in an Indian household's purchase basket. Likewise, at under $3-5/month, Indian consumers have access to newspapers delivered daily to their doorsteps. This creates a stronger case for continued momentum in the traditional media sectors in the short to medium term," stated the report.
Irrespective of how the monetization models evolve, the industry structure is expected to transform. Linear value chains of the past will collapse, accommodating new roles and new players, says the report. "This evolving ecosystem will create new winners and these winners will do three things differently," said John Rose, Senior Partner at The Boston Consulting Group. "They will think big, leverage multiple monetization models—adding up dimes to create dollars and invest heavily in content—for content will continue to be king." "Content aggregation and content management will become as important to the value chain as content creation," states the report.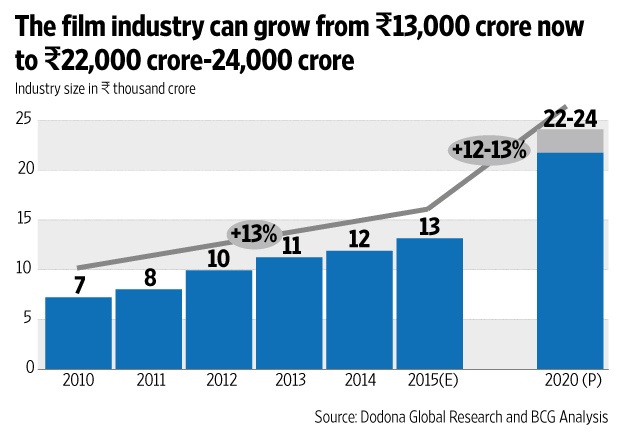 Minister of state for information and broadcasting Rajyavardhan Singh Rathore said in his address at the CII Big Picture Summit on Monday that the government has put its weight behind the digital media. "More and more government advertisements will be pushed on digital platforms, including Youtube and Facebook in comparison to the print media. Apart from that creative work for state broadcaster Doordarshan and All India Radio will be outsourced to private companies. Plans are under way to revamp the terrestrial broadcast of DD to couple it with Internet and DTH so that there would be opportunities for making local programmes based on events happening in smaller towns and rural areas. This would also give a boost to creation of contents, which have local flavour and relevance," said Rathore.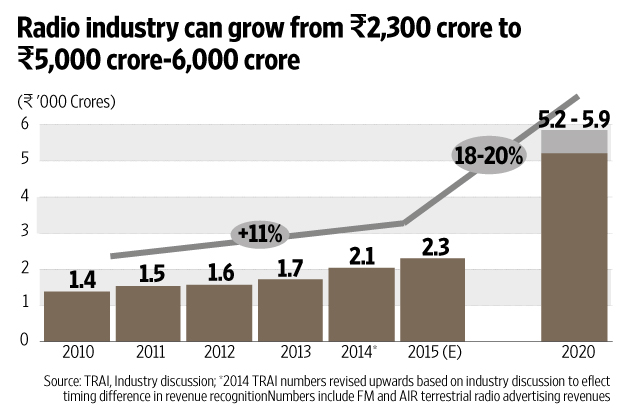 Sanjay Gupta, chief operating officer, Star India, highlighted the systemic flaws in the television distribution sector, which contributes to a third of the total valuye of the media industry. "In the past few years, immense investments have been made in both DTH and the cable business. But the tragedy of this sector is that even after many years of continued investment not a single company or business makes any money. Since the sector is considered a basic need from a consumer viewpoint, the prices at which content is sold by creators to platforms is regulated – prices frozen in 2003 haven't changed in the past 12 years," said Gupta.
He said that such anomalies bleed the sector but no one seems to care. "In Delhi, for example, the new government has doubled entertainment tax. Consequently, almost 30% of revenue is paid as entertainment tax. The lack of political alignment and consistency of policy in the sector makes it impossible to plan a sustainable business model," he said.