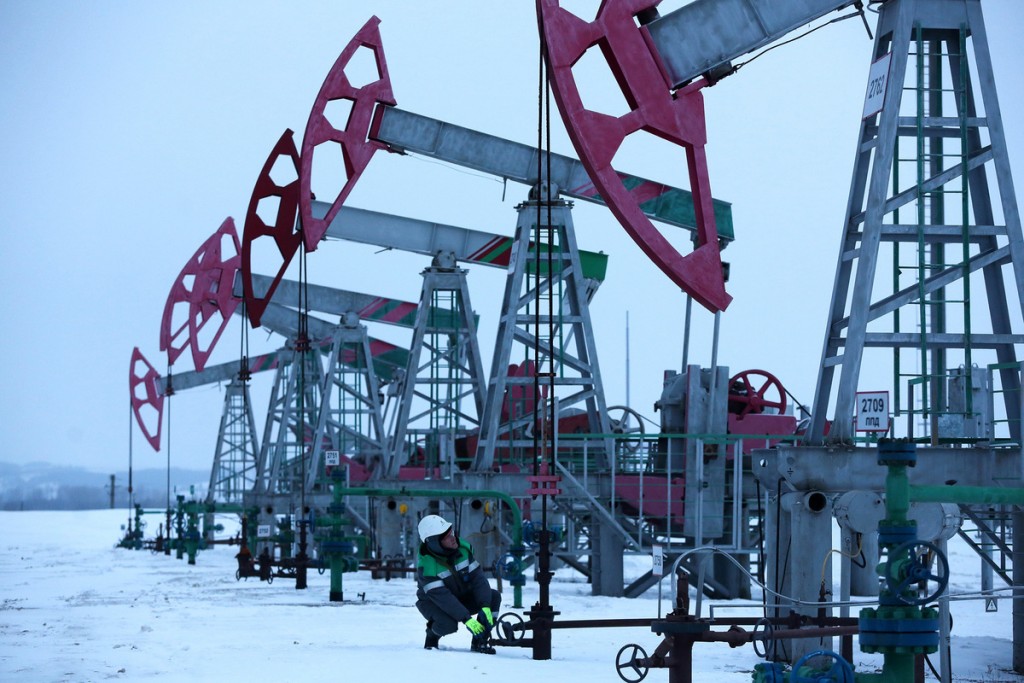 Equity investors who have shunned Russia as tumbling oil prices and international sanctions drove wild price swings may have a good reason to take a fresh look at the cheapest stocks in developing nations.
On a risk-adjusted basis, Russian equities have risen the most this year among the top 10 markets represented in MSCI Inc.'s developing-nation stock gauge, data compiled by Bloomberg show. That performance, measured by how much of a return investors made relative to the risk they took, comes as the Micex Index trades at 5.2 times the projected earnings of its members, the lowest multiple among emerging-markets benchmarks.
Developing-nation stocks have rallied 15 percent from this year's low, driven in part by a rebound in crude prices from the lowest levels since 2003. The impact on Russia, where oil is the biggest export and accounts for a substantial part of the government budget, has been particularly strong as its benchmark index rallied to the highest since 2008.
"Russia is the market to play the rebound in emerging-market equities, because Russia is speculatively one of the most beaten markets," David Hauner, an analyst at Bank of America Corp. who turned bullish on the country's stocks in December, said by phone from London. "We have been witnessing extremely bearish positioning in emerging-market equities, and we may now be witnessing a bear market rally."
On a total-return basis, the Micex Index has risen 6.6 percent in 2016, behind Brazil's 13 percent gain and a 7.6 percent advance in Turkey's benchmark gauge. Russia's benchmark gauge added 0.8 percent by 10:20 a.m. in London, extending this year's gain to 7.5 percent.
Russia's risk-adjusted return, determined by dividing the total return by the degree of daily price variations, presents another picture. The 0.2 percent gain is the best among the 10 heaviest-weighted markets in the MSCI Emerging Markets Index. Mexico ranked second by that measure, with a 0.1 percent advance. Taiwan's benchmark gained less than 0.1 percent, while gauges in Brazil, India and China declined.
Stabilizing oil prices and optimism that China will increase stimulus to spur growth have helped revive demand for emerging-market assets. Those factors prompted Bank of America to shift its call to on developing equities to "constructive" from "cautious" at the end of last month, joining a growing list of banks and investors turning more bullish.
Acceptable Volatility
"The Russian market is highly volatile, but I am totally OK with volatility as long as the long-term trajectory is right," Brian Jacobsen, a chief portfolio strategist at Wells Fargo Funds, which oversees $242 billion, said from Menomonee Falls, Wisconsin last week. "Right now, it seems that the trajectory is right."
Jacobsen, who in November had been considering moving back into Russian stocks, adopted a "slight overweight" position in the middle of December amid signs that equity prices had bottomed out. Since Bank of America turned bullish on Russia in early December, the MSCI Russia Index has risen about 3 percent, compared with a 2.1 percent decline in the MSCI Emerging Markets Index.
Historical 30-day volatility on the Micex, a measure of price swings during the period, has declined to 19 percent after touching an 11-month high of 29 percent in late January, data compiled by Bloomberg show.
International investors began their retreat in 2014 as volatility in Russia's stock market spiked after President Vladimir Putin's annexation of Crimea prompted the U.S. and the European Union to impose sanctions. Tension between the former Cold War adversaries escalated late last year as Turkey, a NATO member, shot down a Russian warplane in Syria near its border.
A diplomatic effort led by the U.S., which has backed rebel groups, and Russia, the chief ally of Syrian President Bashar al-Assad, led to a cease-fire in February, boosting bets that the U.S. and the EU will soften its stance on the financing restrictions, export bans and other measures that have pushed the country into a second year of recession.
"It appears that Russia is playing a little more nicely with the West in relation to Syria, and as a result, we might see sanctions being eased this year," Jacobsen said.