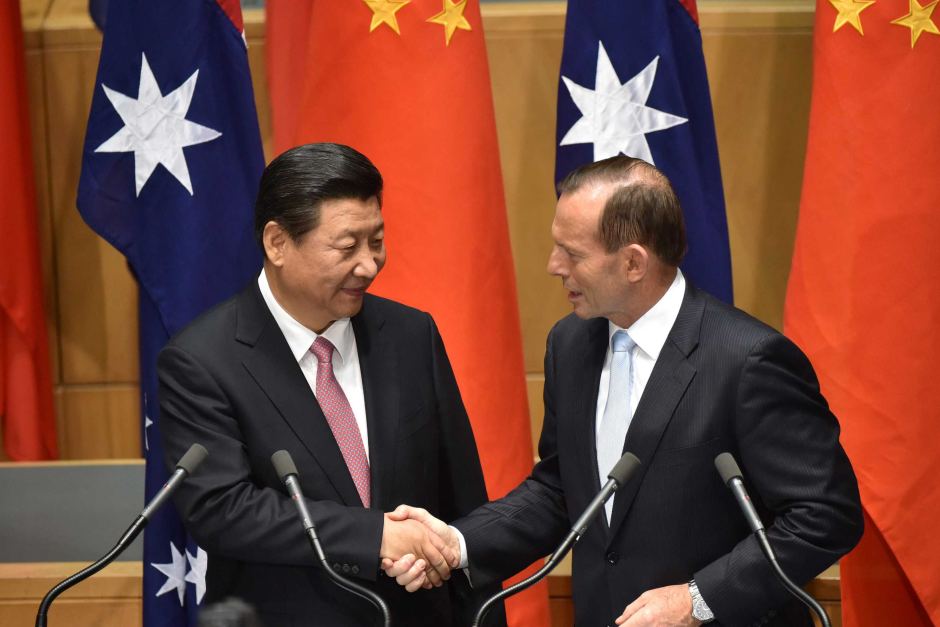 Australia's agricultural exporters say they will feel immediate benefits starting this weekend, as the China free trade deal comes into effect.
The China-Australia free trade agreement (CHAFTA) enters into force on Sunday, after it was ratified by the Australian Parliament in October.
Exporters will only have to wait until New Year's Day before a second round of tariff cuts kicks in.
The double tariff cut is particularly welcome for major export industries including dairy, which has seen huge growth as China's increasingly wealthy population looks to Australia for safe and reliable protein products such as infant formula.
Tariffs on Australian infant formula, currently in extremely high demand in China, will be halved from 1 January.
The Dairy Industry Council's Simone Joliffe says the China deal will help Australia make more out its second-largest export market, which was worth almost $350 million last year.
"It increases our competitiveness, our ability to benefit China with a safe, healthy, reliable source of quality protein and dairy products," she said.
"Really it's about a strong future for us as an industry."
Trade deal puts Australia on level playing field with competitors
Australian producers pushed hard for a China deal, in part because of concern about being left behind by major competitors who signed free trade agreements with China years ago.
That's especially the case for Australia's wine industry, which faces fierce competition from New Zealand and Chile in a Chinese wine import market that's doubled since 2010.
China has become an increasingly important market for the wine industry, which has had a rough decade dealing with droughts, gluts and shrinking demand from traditional major markets like the UK, Europe and USA.
The Winemakers' Federation chief executive Paul Evans said Australia's starting behind the pack, but the agreement will help make up that ground.
"Certainly these tariffs reducing, coupled with our declining exchange rate really do give us an opportunity to re-enter that market in a manner that means we can see sustained growth going forward," he said.
"We'll see an immediate tariff reduction on bottled wine from 14 per cent to 11.2, and then from 1 January that goes down again to 8.4 before it completely rolls off from 1 January 2019."
The total value of Australian wine exports to China increased 47 per cent to $313 million last year, and Paul Evans said CHAFTA "is important to retain [Australia's] competitiveness in that market place".
While it'll take eight years for beef tariffs to be phased out altogether, the Cattle Council of Australia chief executive Jed Matz said beef producers would start seeing results almost straight away.
"We'll be ahead of a lot of other countries and more competitive, and the great thing is that by 2023 [the tariffs] are going to be zero, so it's a really significant deal," he said.
Focus turns to non-tariff barriers
The Chinese market was worth $655 million to the Australian beef industry in 2014, but tariffs are just one part of the equation in seeing that number climb even higher.
In September 2013, China suspended all imports of Australian chilled beef over a difference of opinion over health protocols, and the industry says it will now turn its attention to addressing remaining non-tariff barriers to the Chinese market.
"We're still going to need to do work up there, to work through those non-tariff barriers and smooth out the wrinkles as you trade in a market such as China," Jed Matz said.
"Issues such as labelling and food safety and export certification, they're all issues that are top of mind at the moment, and just trying to make sure that we get as many [Australian meat processing] plants certified for China as possible so that we have as much access as we can."
Beef isn't the only industry turning its attention to issues including biosecurity rules and health protocols, which countries can use to restrict entry to their markets.
Australia's also had issues access for fruit and vegetables in south east Asia, Hong Kong and China in recent years.
Horticulture needs access before it can take advantage of tariff cuts
Michelle Christoe, chief executive of the Horticultural Exporters Association, welcomed the fact CHAFTA will reduce China's horticultural tariffs, which are among its highest tariffs across the economy.
But she said it was important to remember that a free trade agreement doesn't automatically open the door to all Australian horticultural products.
"We have to be careful not to confuse FTA reductions with market access. The produce that currently has access – citrus, table grapes, cherries – in those three commodities I see there will be significant differences," she said.
"But we're currently negotiating [access to China for Australian] stone fruit. When we get stone fruit over the line, I believe that will open up a significant marketplace for our stone fruit industry. That's where I see that there's potential for the horticulture industry in export."
Negotiations about biosecurity are notoriously slow and often highly political, but Michelle Christoe is optimistic.
"We're almost there. The Chinese are coming out for a visit shortly, and hopefully we'll come to a conclusion on that discussion."
For its part, Australia will eliminate all remaining tariffs on Chinese agricultural and processed foods under the agreement.
To give Australian industries an opportunity to adjust, the Government says, tariffs on some canned fruits and peanuts will be phased out over three years.