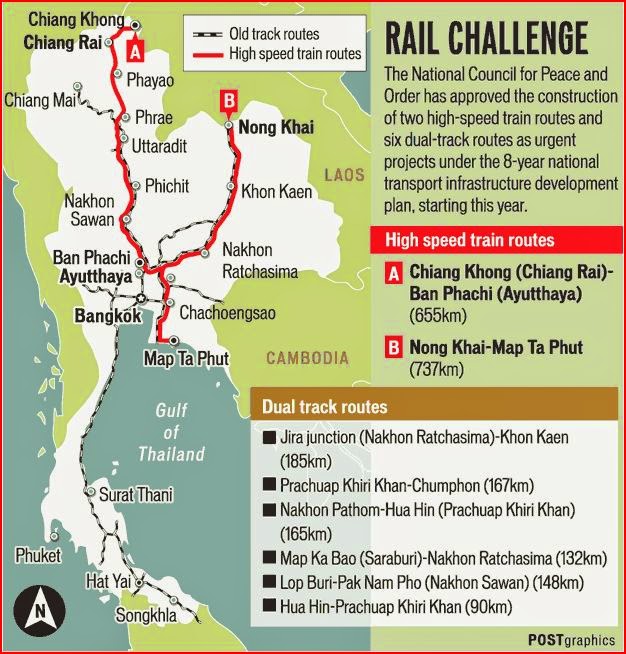 After a meeting between Prime Minister Prayuth Chan-ocha and Wang Yong, a member of China's State Council, as part of the celebrations of 40 years of diplomatic relations, the two countries agreed to closer cooperation in many sectors.
Prayut says two-way trade could be double in 10 years from the current value of about US$70 billion (2.5 trillion), while he expects the number of Chinese tourists to Thailand to reach 10 million next year.
At the fourth Joint Committee on Trade, Investment and Economic Cooperation between Thailand and China, joined by more than 200 Thai and Chinese businesspeople, Deputy Prime Minister Somkid Jatusripitak emphasised the Thai government's measures to promote more investment in targeted industries in order to ensure sustainable economic growth.
He encouraged more Chinese interests to invest in Thailand under the closer cooperation, adding that Thailand was ready to collaborate with China's One Belt, One Road policy on regional integration.
He said that with stable politics and clear strategies to promote investment, the Thai government was attempting to facilitate more investment, especially in targeted super-clusters and SEZs in border provinces.
Targeted super-clusters
Somkid said the Thai economy was projected to grow by 4 per cent next year, while the government has a policy to support and facilitate more investment in the Kingdom.
Targeted super-clusters include businesses using advanced technology, and future industries such as automobiles and parts, electrical appliances, electronics and telecommunication equipment, eco-friendly petrochemicals and chemicals, digital-based enterprises, food, medical, processed agricultural products, and textiles and garments.
Hirunya Sujinai, secretary-general of the Board of Investment, said Chinese investment in Thailand had increased significantly during the past few years, much of it in the automotive and alternative energy industries, bringing in a lot of investment capital.
She said the BOI had a clear policy to support investment growth between Thailand and China. For next year, the BOI foresees more Chinese investment in many industries here, including machinery and parts, medical equipment and parts, trains and railway parts, biotechnology, and software.
According to the BOI, Chinese investors launched 45 projects in Thailand from January to October, with initial investment capital worth Bt12.16 billion. 
China is the fourth-largest source of foreign direct investment into Thailand after Japan, Singapore and Indonesia. 
Businesses for which Chinese investors have applied for promotion privileges are rubber-tyre production, steel, machinery and parts production, electricity production from waste, and electrical-appliances production.