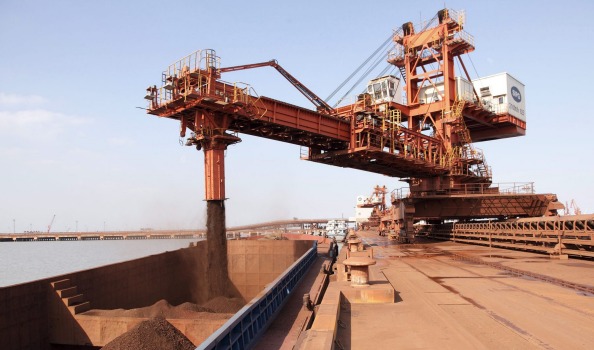 In the global iron ore market, the world's two biggest exporters are expanding sales into the top customer, winning a greater share of trade as prices tumble.
Cargoes from Australia to China rose 13 per cent to 347.4 million metric tons in the first seven months of the year, while Brazil's shipments gained 6.5 per cent to 100.7 million tons, customs data from the biggest buyer showed on Friday. Total imports for the period were little changed at 539 million tons.
The figures show that miners in Australia and Brazil are managing to build market share in China even as steel output contracts amid an economic slowdown. BHP Billiton, Rio Tinto Group and Vale are increasing low-cost supply, betting that higher volumes will offset lower prices as less competitive rivals are forced to close. Iron ore prices sank last month to the lowest in at least six years as demand growth stalled.
"Australia will likely again extend its market share of iron ore imports into China 2016," said Anurag Soin, an analyst at Australia & New Zealand Banking Group in Melbourne, said before the data were released. Rio and BHP, as well as Gina Rinehart's Roy Hill Holdings, are still completing expansion plans, and most of that supply will displace higher-cost output from China, Europe and North America, he said.
In July, Australian exports to China rose 12 per cent to 56.2 million tons from a year earlier, while shipments from Brazil were 16.6 million tons, 17.5 per cent higher, the data showed. Total purchases by China were 86.1 million tons last month, the highest this year, even as steel output dropped.
Rio and BHP have defended their strategy of expanding low-cost production into an oversupplied market. Rio's Sam Walsh said in February if it cut output, forfeited supply would be made up by others. Alan Chirgwin, iron ore marketing vice president at BHP, said in May the miner's strategy was rational.
China's demand for iron ore is still very considerable despite the economic slowdown, Ren Binyan, managing director of Rio Tinto China, told reporters on Friday. The company plans to sell 240 million tons to the country this year, up from 200 million tons last year, he said in Shanghai.
Ore with 62 per cent content delivered to Qingdao rose 0.5 per cent to $US56.10 a dry ton on Friday, according to Metal Bulletin Ltd. The commodity bottomed at $US44.59 on July 8, a record in data going back to May 2009, and is 21 per cent lower this year.
Australia's exports of iron ore to all overseas buyers will expand to 824 million tons next year from 748 million tons in 2015, while Brazil's shipments jump to 412 million tons from 390 million tons, according to projections from Australia's Department of Industry & Science. The two countries will account for a combined 87 per cent of global seaborne trade next year from an estimated 83 per cent in 2015, it said. China is the main buyer, accounting for about half of world steel production.