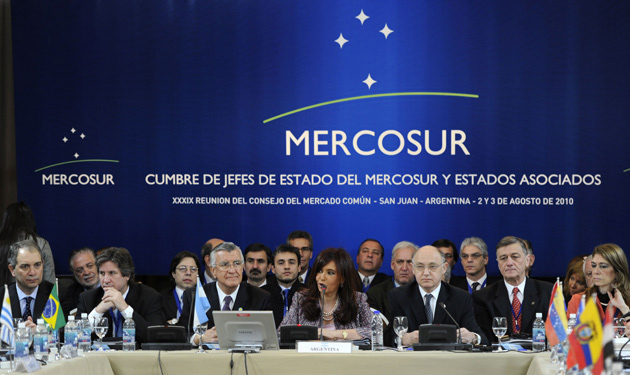 If this is the case Argentina's recently inaugurated president Mauricio Macri will be meeting face to face with Venezuela's defeated, in legislative elections, Nicolas Maduro, and apparently according to ongoing statements, there's not much chemistry among them.
Bolivia's Evo Morales has confirmed he will attend the half year summit, as well as Dilma Rousseff from Brazil; Uruguay's Tabare Vazquez; Argentina's Mauricio Macri; Venezuela's Nicolas Maduro and the host Paraguayan president Horacio Cartes.
The summit and the preparatory meetings of Common Market Council, will take place at the Convention Centre belonging to Conmebol, South America's football association, very much but not necessarily in the best of headlines currently. In effect, the palatial convention center in Luque is by far the most modern and best equipped of any of its kind in Paraguay.
Mercosur Commerce committee technical meetings will take place on 17 December and on the following two days there will be an extraordinary meeting of the Common Market Group. On Sunday foreign, economy, finance and industry ministers, together with central bank governors will discuss the economic situation, monetary policy and trade.
During the meeting the rotating chair will be passed on to Uruguay for the next six months. This happens at a crucial moment for Mercosur since the South American grouping and the European Union have publicly pledged to sign a free trade agreement in the next months. This comes when the main obstacle on Mercosur side, which was Argentina's ex president Cristina Fernandez has been replaced by business friendly Macri who has pledged to advance in trade agreements worldwide.
However the political scenario could overshadow other routine discussions on trade, banking, economics, jobs, when Macri and Maduro come across each other. The Argentine leader during the last months of his campaign insisted had promised that he would sponsor Mercosur 'democratic clause' against Venezuela's Maduro. Although he later toned down Macri insists all political prisoners must be freed.
Maduro on his side has repeatedly stated that "in Argentina an extreme right option won the election, an option which is neo-liberal, extremist, anti-Latin-American, and profoundly anti Bolivarian revolution. Macri belongs to the bourgeois elite of Argentina, and so does all of its administration, pure elite".
On his side Venezuela's second strongest man and president of the outgoing national assembly, Diosdado Cabello has described Argentina's new foreign affairs minister, Susana Malcorro as "a CIA agent".