Fifty African countries and China wrapped up a landmark summit on Saturday vowing to push for homegrown solutions to solve Africa's peace and security woes.
The leaders met for what South African President Jacob Zuma dubbed "historic" talks, aimed at bolstering ties between the continent and its major trading partner.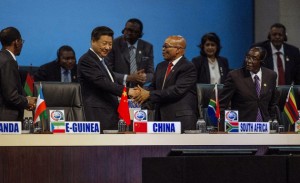 In a declaration adopted in Johannesburg the leaders pledged to "continue to support each other on security matters and maintain peace and security."
"We remain committed to seeking the peaceful settlement of disputes through dialogue and consultation, and China supports Africa in its efforts to solve African problems through African solutions," they said in the declaration.
They agreed to implement a China-Africa peace and security plan and "support the building of the collective security mechanism in Africa."
Forty-eight leaders attended the second summit of the Forum on China-Africa Cooperation (FOCAC) which was held for the first time in Africa.
China offered a $60-billion-dollar financial package to target 10 areas, including industrialisation, infrastructure, financial services, poverty reduction and peace and security.
Of the overall financial package, $60-million will go towards supporting the building of African Union's new 25,000-strong multinational standby force which can respond to crises across the continent.
In January China deployed a peacekeeping battalion in South Sudan.
South Sudan's Foreign Minister Barnaba Benjamin described China's peacekeeping mission to his country under the auspices of the United Nations as "a fundamental change in the foreign policy of China"
Xi told the closing session of the talks that "China and Africa are important forces for maintaining world peace and tranquillity and promoting world development and the prosperity."
"We have the responsibility and the capability to play a bigger role in international affairs."
Mohammed al-Bairi, Foreign Minister of strife-torn Libya welcomed China's expanding role in Africa from just economic and infrastructure to peace and security.
"It's a way forward for us in Africa," he said.
South Africa's foreign minister Maite Nkoana-Mashabane said the decisions of the meeting had "upgraded the partnership to a higher strategic level" and "will alter the trajectory of our continent so significantly."
Leaders at the summit dismissed suggestions that China was exploiting African resources and becoming a de facto new coloniser.
"That's nonsense," Zimbabwe's veteran leader Robert Mugabe told China's CCTV. "China never colonised Africa or anyone. It is them (the West) who plundered Africa and they are still doing so up to now."
"China is offering win-win partnerships in Africa, and we will benefit from it."