RAVI SHANKAR PRASAD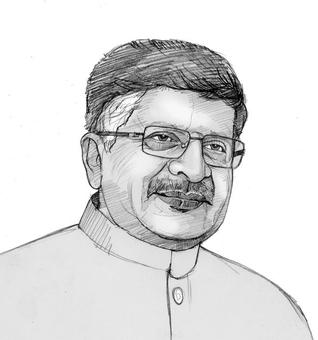 A corruption-free, pro-poor government has put India on the global map.
The biggest achievement of the National Democratic Alliance government headed by Prime Minister Narendra Modi is to restore confidence and hope in India. It is important to bear in mind the context in which the Bharatiya Janata Party-led government came to power: the entire country was in a state of drift and despair; the previous Prime Minister was in office but not in authority; decision-making was paralysed, and governance had become a serious casualty. Scams, scandals, corruption and rent-seeking had become the order of the day. India suffered a serious dent in its global image. Investment had almost dried up — leave aside foreign investment, even India's domestic businesses were wary of investing in new ventures. Every decision smacked of corruption, whether it was coal blocks or spectrum auctions.
Today, in a short span of 12 months, the NDA government has not only succeeded in restoring India's image as a fast-growing economy, but also restored governance and transparency in decision-making. In the 2015 spectrum auction, the government fetched the highest ever price of Rs. 1.10 lakh crore. Earlier, only a few coal blocks were auctioned; now, a huge amount of Rs. 2 lakh crore was obtained, surpassing even the estimated value of the coal scam as projected by the Comptroller and Auditor General of India. The zero loss theory raised by Congress leaders stands completely exposed. All this was made possible because decision-making is fair, transparent and lawful, good governance practices have been adopted, and rent-seeking has been eliminated. The single biggest achievement of the present government is that there is not the faintest trace of corruption in any government decision.
There is a renewed thrust towards reform and growth. Inflation is low, fiscal deficit has been contained and government revenue is growing. FDI has increased from $20.8 billion (April 2013-February 2014) to $28.8 billion (2014-2015).
Strengthening cooperative federalism
In the past year, cooperative federalism has become stronger. As Prime Minister Modi believes that States must be given greater fiscal incentives, the government has readily agreed to the recommendations of the 14th Finance Commission to give 42 per cent of tax revenue to the States. The role of the States in national development has been strengthened — they have been given a direct representation in NITI Aayog. The government has also successfully brought the States on board on the issue of Goods and Services Tax, which will soon become a reality.
The government's priority is the poor and marginalised. Social security is being strengthened. Banking the unbanked, funding the unfunded, and expanding the scope of pension are among the important initiatives that are aimed at making development truly inclusive. Over 15 crore Jan Dhan accounts have been opened in just six months. The insurance scheme for accidental deaths, launched on May 9, with a low premium of Rs. 12, has got 5.57 crore policyholders in a very short span of time. Life insurance schemes for a premium of Rs. 330 per year found 1.7 crore takers in the first 18 days. About 5.77 crore small and marginal entrepreneurs will get substantial help from MUDRA Bank.
The Ministry of Communications and Information Technology, which I have inherited, has taken initiatives to bridge the gap between the digital haves and have-nots through the Digital India programme, aimed at reducing red-tapism and human interface in providing services to citizens. To take the benefits of development beyond the cities and to boost employment opportunities in small towns, we have approved a policy for call centres in small towns. 'Digital India', 'Skill India' and 'Make in India' are all being executed in mission mode, and will change the face of the country.
This is especially significant as the Ministry has been in the news for all the wrong reasons for the past several years. Rampant corruption had become its hallmark during the Congress government. We accepted the challenge to revive the Ministry and make it one of the most vibrant and growth-oriented ones in the government.
BSNL, which made a profit of more than Rs. 10,000 crore in 2004, was suffering a loss of Rs. 7,000 crore in 2014. It has now embarked on a path of growth by setting up new infrastructure and providing new services with a special focus on the Northeast and on Left Wing Extremist affected areas. The Department of Post has today become the most effective vehicle for financial inclusion in the more remote corners. Riding on the e-commerce revolution, India Post is all set to become the largest logistics service provider and will take e-commerce to rural areas.
The ambitious plan to lay 7 lakh kilometres of optical fibre network, connecting all 2.5 lakh village panchayats, is not only the world's largest broadband highway project, but also aims to empower citizens through IT. Our efforts to improve the quality of life for the common man has acquired a new dimension under the Digital India programme. Mr. Modi's call to provide government services on mobiles has started becoming a reality with services such as Jeevan Pramaan and the digital locker. The My Gov portal has successfully made the common man a partner in government. JAM (Jan Dhan Yojana, Aadhar, Mobile) is aimed at ensuring easy delivery of entitlements such as pension and subsidies to citizens through technology.
To ensure success of 'Make in India', electronics manufacturing has been given a big boost. About 21 manufacturing clusters have been approved across India with incentive schemes. Proposals worth Rs. 20,000 crore have been received, of which proposals worth Rs. 9,000 crore have been approved.
Vigour in foreign policy
The success of Mr. Modi in providing a renewed vigour to Indian diplomacy and foreign policy is unprecedented. Be it India's neighbours or the G-20 nations, India's prestige, moral authority and extraordinary potential for growth is being recognised world over. Under the dynamic leadership of the Prime Minister, the world stands convinced about the bright prospects of India's growth initiatives. The growing role of India as an emerging global power is being recognised.
Under the leadership of Prime Minister Modi, India has become a country of hope. There is no gloom and despair, no apprehension of rent-seeking. This, certainly, is an assurance of a promising future.
(Ravi Shankar Prasad is the Union Minister of Communications and Information Technology.)
Keywords: Ravi Shankar Prasad, Modi@365, Narendra Modi's one year at office