President Jacob Zuma has insisted that South Africa has a good story to tell and that the country is doing well despite the challenges that it faces.
The president made the comments during his budget vote debate in the National Assembly on Tuesday.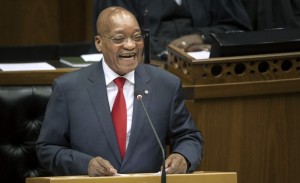 During his address, the president said that the country continued to make progress in the fight against crime, in promoting inclusive economic growth and in creating jobs. He said that the country's progress had been highlighted in the various ministries' budget votes.
"We are moving South Africa forward," President Zuma told the National Assembly. "We are building a better Africa and contributing to building a better world."
The president though did acknowledge that South Africa's energy crisis was hampering economic growth but said that there was a plan in place to deal with it.
He then called on South Africans to help build stronger, united communities, saying that the brutality of the Apartheid system had introduced a culture of violence and may have eroded some of the values of South Africans.
The president also assured that the attacks on foreign nationals would not be tolerated and that law enforcement agencies had been tasked with finding the perpetrators.
President Zuma also pledged to tackle the scourge of drugs and alcohol amongst the youth, saying that "government will deal mercilessly with drug dealers."
"Despite the challenges I have mentioned which we must all address, our country is doing very well. The fundamentals are in place.
"Our institutions are strong and sound. All the arms of the state are functioning effectively – the executive, parliament and the judiciary.
"This means that our hard won democracy is safe. We will always protect it because we sacrificed so much for it.
Then, citing the Institute for Management Development Global Competitiveness Yearbook, the World Economic Forum's Global Competitiveness report, and the Ibrahim Index of African Governance, President Zuma said that these reports showed that South Africa did have a good story to tell, as the country was performing well in the areas that the reports covered.
"I am sure we can now all agree that indeed, South Africa has a good story to tell," the president said.