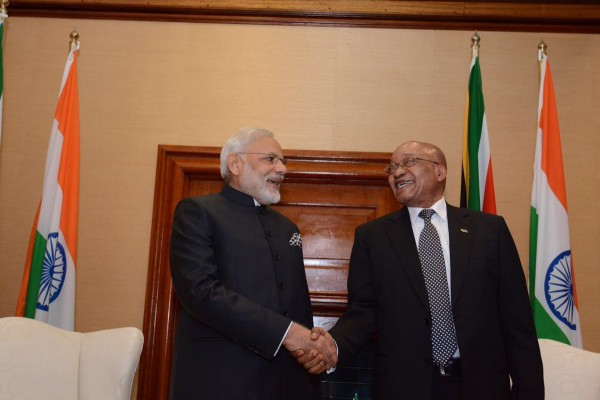 Indian Prime Minister held talks with South African President Jacob Zuma in Pretoria on Friday. Modi was accorded a ceremonial welcome at the Union Buildings, the seat of the South African government.
Modi and Zuma are meeting amid slowing economic growth and global challenges including a fraying European Union and a spiralling of terror-related attacks across the globe.
On Friday, Modi and Zuma led delegation-level talks. Among those present were Indian Foreign Secretary S. Jaishankar, South African Foreign Minister Maite Nkoana-Mashabane, Indian National Security Advisor Ajit Doval and South African Minister of State Security David Mahlobo.
The two countries on Friday inked several memorandums of understanding including innovation, tourism, technology, arts and culture.
"Our relationship is a story of resolve, determination, justice and excellence of human endeavour," Modi told reporters after officials talks.
The South African Trade Ministry is also hosting the South Africa-India business and CEOs' forums during which Zuma and Modi will address business leaders together.
Bilateral trade in 2015 amounted to about R95 billion. Official trade data shows India's exports to South Africa increased from Rand 29 billion in 2011 to Rand 54 billion in 2015. South African companies have also grown their investments in India with a total of 24 projects
South African Foreign Minister Maite Nkoana-Mashabane said a key objective during Modi's visit would be "to enhance commercial and business relations with India and to promote private sector to private sector contact".
"South Africa will also be exploring ways in which to increase and diversify our exports to India by identifying new areas of market access in areas including the defence sector, deep mining, renewable energy and the health sector," she wrote in an oped in South African daily, New Age.
Ahead of Modi's visit, Trade Minister Rob Davies also asserted that "efforts are underway to promote exports of value added products" to India.
India and South Africa must also step up security cooperation, the Indian Prime Minister said on Friday.
"Beyond economic ties and links of businesses, trade and investment, we can also partner in the field of defence and security," Modi added.
South Africa and India, along with other BRICS partners, play a crucial role in global politics. BRICS have taken similar stands on Syria, vociferously opposing the demands by Western capitals to oust Syrian President Bashar Al-Assad.
On Friday, the two BRICS leaders also discussed global problems that span instability in the Middle East and terrorism.
"Terrorism is a shared threat; the South African President and I agreed that we must be vigilant and cooperate to combat terrorism, regionally and globally," Modi said after talks with Zuma.
The two countries are crucial voices of the global south, Zuma asserted in Pretoria.
"Together India and South Africa play a leading role in the Global South, in order to influence the world we live in… Within BRICS, South Africa and India cooperate closely and we are excited by the initiatives proposed by India during its current chairship, aimed at deepening cooperation and the building of institutions," he added.