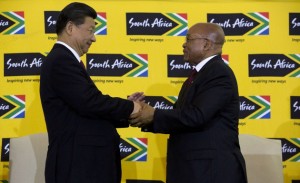 President Jacob Zuma has defended China's decision to cement trade and investment ties with Africa, following the conclusion of the Forum on China-Africa Cooperation summit at the weekend.
During the summit, China's President Xi Jinping pledged to invest $60-billion in the continent over the next three years to development infrastructure across Africa.
President Zuma has dismissed criticism that the Asian powerhouse was using its trade relations to extract the continent's mineral resources.
"I know that people have views about China. They are trading with us with no strings attached. President Xi (Jinping) said they want to develop with us. It's partnering, not domination," President Zuma said in an SABC report.
Last week South Africa signed 26 agreements with China worth R94-billion. The agreements will see cooperation between the two BRICS aligned countries in the realignment of industries to accelerate South Africa's industrialisation process; the enhancement of cooperation in Special Economic Zones; the enhancement of marine cooperation; infrastructure development; human resource cooperation and financial cooperation.
According to the President Zuma, the agreements will help to address the industrialisation of South Africa's economy.