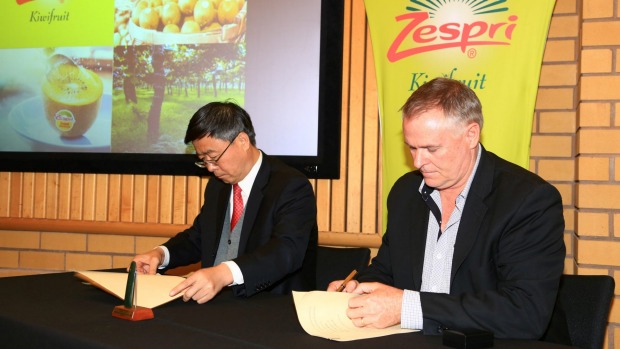 Zespri is preparing the ground for possibly growing its own kiwifruit in China, with the signing of a memorandum of understanding with Chinese officials.
Trial sites for growing will be established in Shaanxi Province in April 2016, and a kiwifruit "centre of excellence" set up next year as well.
China – the original home of kiwifruit – is the world's largest grower and is soon destined to become Zespri's most important consumer.
Mr Gao and Zespri chief operating officer Simon Limmer on a kiwifruit orchard after signing an MOU between Zespri and the Shaanxi Provincial Government.
Massey University marketing associate professor Henry Chung said the move would be viewed by the Chinese as a positive one.
"Originally kiwifruit was not a successful product until New Zealand adopted it, so it will be seen as an honour for Zespri to return to the fruit's country of origin," Chung said.
Chief operating officer Simon Limmer said in one to two years China would become the biggest export destination by volume, and in two to three years the largest by value.
Making inroads into China is key to meeting the goal of $2 billion global exports by 2020. At present exports total $915 million.
Sales to China have increased by about 40 per cent this season. Zespri forecasts sales of over 18m trays of New Zealand fruit and 2m trays from its overseas growers in China, up from 11.3m trays of New Zealand fruit and 2m trays from overseas growers last season.
"It's a discerning market, there's a middle class emerging which is driven by branded, safe, quality products and more and more healthy products. We've established a strong brand presence there," Limmer said.
He emphasised that Zespri was not yet intending to plant orchards, as it has done in Italy, France, Japan and Korea.
Fruit from these countries supplies markets during the four months when there is no New Zealand fruit available.
Zespri signed the MOU with officials of the Fruit Industry Management Bureau of Shaanxi Province at its office in Mount Maunganui.
It outlines the dual intention to develop the kiwifruit industry in Shaanxi, while establishing trial kiwifruit production bases on two sites in Shaanxi and assessing local varieties.
Zespri and the Shaanxi Provincial Government have also agreed to establish a centre of excellence in Hanzhong to support research, expert exchanges, grower tours and scientific collaboration.
Shaanxi  produces the most kiwifruit in the world, between 40-50 per cent of China's total.
Limmer said it was estimated 1.3 million tonnes of kiwifruit is produced in China annually, all for domestic consumption. This compares to New Zealand's production of 400,000 tonnes.
Most of the varieties grown are green, although there is some gold and red planted.
"Because there is so much kiwifruit grown in China, it represents a significant opportunity and a potential threat. The benefits are the counter-seasonality aspects for the northern hemisphere," Limmer said.
China was a more complicated place to do business because of the issues of land ownership, food safety, quality systems, country of origin, and acceptance from consumers.
It was important for Zespri to understand what Chinese production looked like and what it meant for the co-operative.
Limmer said there were a number of large and successful commercial operators in Shaanxi, and Zespri was exploring who might be good partners.
Its central office in China is in Shanghai, with a regional office in Beijing, and plans to develop regional representation in Guangzhou, Xian and Chongqing over the next six months. These regional offices will provide better support for distribution partners and retail customers in the regions and support expansion out from the eastern seaboard into other provinces.
Zespri was a world leader in its global partnerships. Its other significant southern hemisphere rival, Chile, has a fragmented industry which has not gained similar traction.