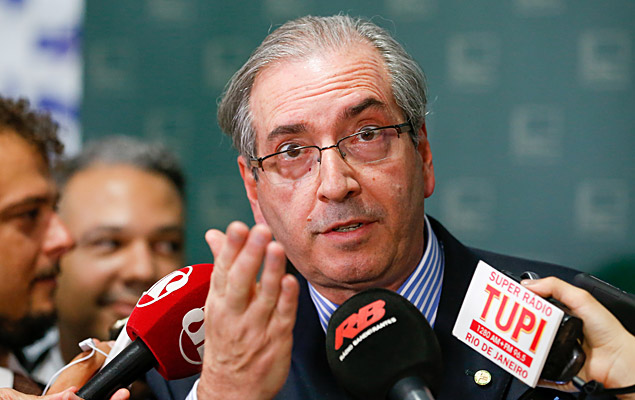 Eduardo Cunha, Speaker of the lower house of Congress, has said to his PMDB allies in Congress that the campaign for the opening of impeachment proceedings against President Rousseff has lost momentum and that impeachment will have to wait until next year, at the earliest.
Cunha stated his position to his allies in a dinner at his house last Wednesday (18), the same day the largest opposition party, the Brazilian Social Democracy Party (PSDB), made public its rupture with Cunha.
According to deputies who were present at the dinner, all of whom favor Rousseff's impeachment, Cunha said he would not make any decision on the main impeachment requests this year. Previously, he had been saying that he would take a decision in November.
"He said he has the impression that the movement for impeachment has lost momentum, that at the moment it doesn't have popular support," said Hildo Rocha, a Cunha ally present at the dinner.
"But what happened with Rousseff's finances [the Federal Court of Accounts having rejected Rousseff's finances for 2014] is a reason to continue with impeachment," he argued.
According to Rocha, a PMDB congressman for Maranhão, Cunha said he would approve the opening of impeachment proceedings if Congress ratifies the decision of the Federal Court of Accounts (TCU) to reject Rousseff's 2014 finances.
"If that happens, he said that the impeachment issue will again be on the table, with great urgency," Rocha said. "But this year there's no chance whatsoever of that happening."
Darcísio Perondi, a PMDB congressman for Rio Grande do Sul, had a different assessment to make. "For me, he [Cunha] isn't thinking about that anymore. He was disappointed with the PSDB; he doesn't know which side to choose but now he's been forced to side with the government."
Accused of participating in the corruption scheme at Petrobras, and faced with the possibility of removal from his post, Cunha has been performing a delicate balancing act between government and opposition, in order to secure enough support to save his job.
He has been using the possibility of impeachment as a bargaining chip, as he will have the final say on the eventual impeachment proceedings against Rousseff, if they occur.
Last week, Cunha appeared to side with the government once again, after the PSDB broke off relations with him. The PSDB is dissatisfied with the explanation Cunha provided for millions of dollars found hidden in Swiss bank accounts that he controls.
In Congress, ten impeachment requests have hitherto been filed against Rousseff. The main request has been signed by the lawyers Hélio Bicudo, Miguel Reale Júnior and Janaína Paschoal, and it has the approval of the opposition and anti-government street movements.
Cunha had been saying he would decide whether to proceed with this request in November. Sought by the report, he was unavailable for comment.