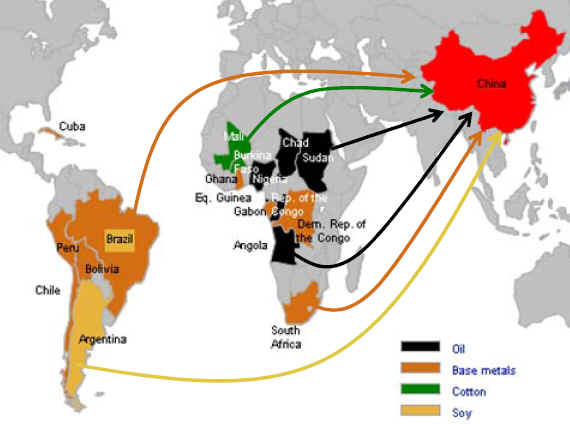 EIJING, Dec. 23 (Xinhua) — China's relations with Latin America and Africa ushered in a new era of win-win cooperation in 2015, which have become a paradigm for South-South cooperation and helped build a more multilateral world.
The upgrade of such relations is represented by two summits held respectively in the beginning and the end of this year.
On Jan. 8-9, the first ministerial meeting of the forum of China and the Community of Latin American and Caribbean States (CELAC) was held in Beijing, marking the start of a new era that features all-round cooperation between the two sides.
On Dec. 4-5, the second summit of the Forum on China-Africa Cooperation (FOCAC) was held in Johannesburg, South Africa, sending a strong message to the entire world that China and Africa are further striving for win-win cooperation and common development.
China-Latin America Cooperation
The first China-CELAC forum ministerial meeting has shown that the comprehensive cooperation between China and Latin America has come true and the China-Latin America relations have entered a new phase that features the common development and mutual promotion of bilateral and all-round cooperation, Yin Hengmin, special representative of the Chinese government on Latin American affairs, said at a seminar held in November in Shanghai.
"The China-CELAC forum has yielded delightful early results, which has laid a solid basis for the long-term development of the all-round cooperation between China and Latin America," Yin said.
At the first China-CELAC forum ministerial meeting, China and CELAC agreed on three major documents — a five-year cooperation plan, the Beijing Declaration and the Regulations on China-CELAC forum.
The plan (2015-2019) contains specific measures for overall cooperation between China and Latin America, covering politics, security, trade, investment, finance, infrastructure, energy, resources, industry, agriculture, science and people-to-people exchanges.
Among them, on the political front, China will invite 1,000 political party leaders from CELAC members to visit China.
Both sides will strive to achieve a trade volume of 500 billion U.S. dollars and investment of at least 250 billion dollars within a decade.
China promises 6,000 government scholarships for students and scholars from CELAC members from 2015 to 2019 and will help set up Chinese-language courses in primary and middle schools.
According to the Beijing Declaration, China and CELAC will coordinate on major global issues, and work together on multilateral policy-making with more exchanges between legislative organizations, governments and youth.
Such cooperation between the two sides has been hailed by officials and experts.
"The time is right for Latin America and the Caribbean to take a qualitative leap in its relations with China," Alicia Barcena, executive secretary of the United Nations Economic Commission for Latin America and the Caribbean, told Xinhua.
Barcena said the cooperation plan is "a necessary and important first step" in terms of sharing experience in promoting sustainable development, as it "defines an institutional framework and general guidelines."
CELAC, a bloc consisting of all the 33 countries in Latin America and the Caribbean, can be a main platform for furthering cooperation between China and the region, according to Barcena.
Ecuadoran Vice President Jorge Glas, whose country holds the rotating presidency of CELAC, told Xinhua in early December that cooperation between China and CELAC can help the region's transition from being producers of raw materials to makers of value-added goods.
"Even though Latin America is going through a rough path on the economic front, with some countries, including Brazil, facing recession, relations (with China) can still be fruitful," said Evandro Carvalho, a researcher at Brazilian public policy think thank Getulio Vargas Foundation.
He said infrastructure projects such as the 5,000-km railway connecting South America's Atlantic and Pacific coasts via Brazil and Peru, will improve the economy of the countries involved, helping them overcome the crisis and strengthening their relations with China.
China-Africa Partnership
At the FOCAC Johannesburg summit, China and African countries agreed to lift their relations to a comprehensive strategic cooperative partnership and join hands to usher in a new era of win-win cooperation and common development.
In order to turn the proposal into tangible results, Chinese President Xi Jinping, in his keynote speech at the opening ceremony of the summit, called for concerted efforts to strengthen "five major pillars" and announced 10 major plans to boost bilateral cooperation covering the areas of industrialization, agricultural modernization, infrastructure, financial services, green development, trade and investment facilitation, poverty reduction and public welfare, public health, people-to-people exchanges, and peace and security.
Xi announced that China will offer 60 billion U.S. dollars of funding support to ensure smooth implementation of the initiatives.
"We have been very impressed by the speech of President Xi, because it is a very concrete proposal and a roadmap for the cooperation between China and Africa," Kadre Desire Ouedraogo, president of the Commission of the Economic Community of West Africa States, told Xinhua.
Puedraogo said the 10 areas of cooperation correspond to the priority of Africa, adding that "we believe that is a starting point of a very successful cooperation between China and Africa."
The historic meeting, which approved a declaration and an action plan for cooperation in the coming three years, has strengthened solidarity and cooperation and will guide the future of relations between China and Africa, said Chinese Foreign Minister Wang Yi.