MANILA, Nov. 18 (Xinhua) — Against the backdrop of fragile global recovery and potential challenges facing Asia-Pacific development, Chinese President Xi Jinping on Wednesday expounded on his suggestion for regional growth and expressed confidence in China's economy.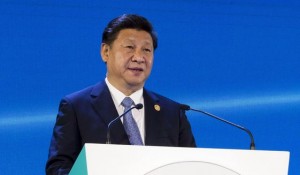 In a keynote speech addressing an Asia-Pacific Economic Cooperation (APEC) CEO summit, Xi briefed business leaders on China's current economic situation and direction of reform.
Noting some current and potential difficulties and challenges in the region, the Chinese president urged to accelerate regional economic integration and enhance connectivity in the Asia-Pacific.
CONFIDENCE IN CHINESE ECONOMY
As the world's second largest economy, China's economic performance has always been in the limelight.
"With global growth slowing down, China is working vigorously to overcome difficulties and meet challenges by strengthening macro regulation and effectively advancing reforms," said the Chinese president.
Xi said the overall economy has operated within the reasonable range and maintained steady and fairly rapid growth, achieving a growth rate of 6.9 percent in the first three quarters this year and contributing about 30 percent to global economic growth.
Xi's address conveyed China's confidence in its economy, especially at a time when the global economy is confronted with some difficulties and challenges, said Huang Wei, a researcher with the Chinese Academy of Social Sciences.
The slowdown in China's economic growth is not out of control, Huang said, adding that the country is focusing more on economic structure optimization and sustainable development.
Referring to the proposal on China's 13th Five-Year Plan (2016-2020) recently adopted, Xi said China will step up reform and innovation, accelerate the shift of growth model and economic restructuring, address the difficult issues in development, cultivate new drivers and new edges for development.
Tang Guoqiang, chairman of the China National Committee for Pacific Economic Cooperation Council, said the CEOs spoke highly of Xi's remarks on China's economic proposals and believed the Chinese government can promote a healthy development of the country's economy, which would bring more opportunities to the Asia-Pacific region.
CONSTRUCTION OF FTAAP
With various new regional free trade arrangements cropping up, worries about fragmentation are on the increase.
In his speech, Xi urged relative parties to speed up the realization of the Free Trade Area of the Asia-Pacific (FTAAP) and strengthen the openness and inclusiveness of free trade arrangements to the greatest extent.
Recalling that APEC leaders made a historic step in 2014 in Beijing by launching FTAAP process, he called for concerted efforts to boost the openness of the Asia-Pacific economy and safeguard multilateral trade systems.
In order to avoid fragmentation, Liu Chenyang, director of the APEC research center of Nankai University, suggested that the Asia-Pacific economies need more coordination among the existing free trade arrangements and promotion of the construction of FTAAP.
Huang echoed Liu's comments, saying that FTAAP is a blessing to enterprises of all kinds in the region as they can operate and compete in a more fair and just framework.
The accelerated construction of FTAAP would be undoubtedly conducive to regional economic recovery, Huang added.
Wilson Lee Flores, columnist of local newspaper the Philippine Star, said FTAAP has good prospects because it is big in scale and comprehensive in scope.
"Many Asians look forward to China's dynamic leadership of FTAAP, and hope this plan could be realized as soon as possible despite some obstacles. FTAAP is more win-win and inclusive," Flores said.
REGIONAL CONNECTIVITY
Noting that better connectivity will increase the potential in economic and social development, Xi recalled that the APEC members inked last year in Beijing an agreement on enhancing physical, institutional and people-to-people connections by 2025.
The connectivity blueprint, Xi stressed, needs to be earnestly carried out in order to achieve tangible results.
The Silk Road Economic Belt and the 21st Century Maritime Silk Road initiative, proposed by Xi two years ago, has received warm responses from and active participation by over 60 countries and international organizations.
That has inspired the business community in the Asia-Pacific, Tang said, adding that the Belt and Road Initiative is not only in line with regional connectivity target but also will create huge opportunities for Asia-Pacific economies.
"China has established and put into operation the Silk Road Fund, and is now working actively with more than 50 countries to prepare the launching of the Asian Infrastructure Investment Bank (AIIB)," Xi said in his speech.
Referring to the AIIB, Huang said China has provided much support and public goods to the region, and the AIIB is a good illustration.
The poor infrastructure in many Asian countries has hindered their development and the AIIB, if established officially by the end of this year, would facilitate financing of infrastructure construction for these countries, Huang said.