Xiaomi Inc, China's privately owned Electronics Company is relying on India's e-commerce market to counterbalance the declining sales on its home territory. Due to a slowdown in China's smartphone market, the company failed to meet its annual shipment target last year. It reported around 70 million global annual shipments, a 10% drop from what the company was expecting.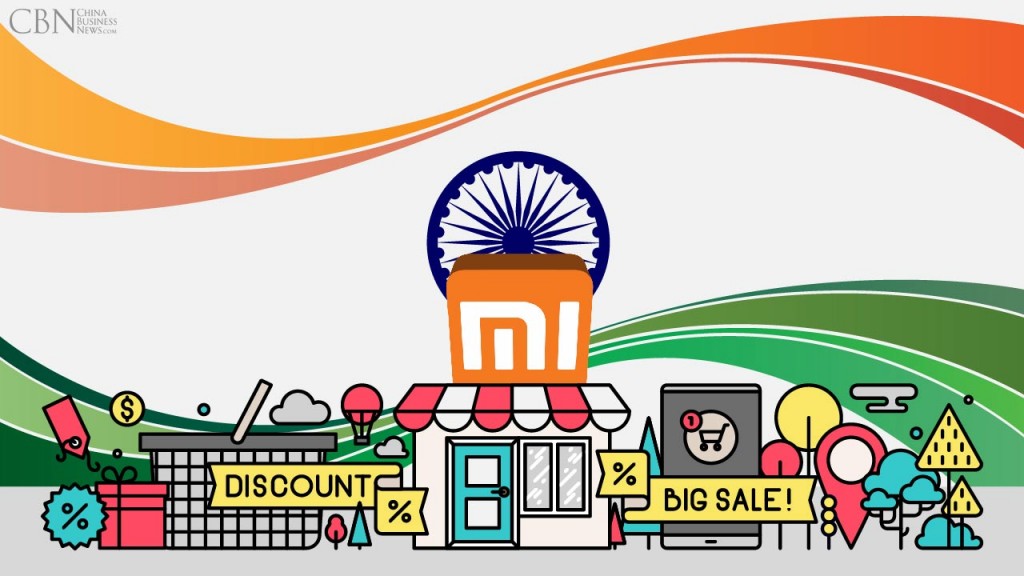 Why Bullish on Indian E-commerce Market:
Bin Lin, Xiaomi's president indicated that though the Indian e-commerce market is tiny compared to that of China and still in the early stages of development, the company's sales are climbing here. This implies that as for now, the market provides greater growth prospects than in China, said Mr. Lin.
Online shopping is growing at an increasing rate in India, and Mr. Lin indicated that e-commerce, which has proven to be a powerful tool in China, is now budding in India. Like Xiaomi, other technology companies including Alibaba Group (NYSE:BABA) Tencent Holdings, Baidu, and Huawei are all positive on the Indian market. Alibaba recently invested in India's most prominent online startups including Snapdeal, Flipkart, and Paytm.
In China, Xiaomi already enjoys a greater market share than local rival Huawei Technologies and tech giant Apple Inc (NASDAQ:AAPL). However, the company failed to gain the desired recognition in the international arena. On the other hand, its domestic rival Huawei completed more than 100 million global shipments in 2015, beating both Apple and Samsung in terms of growth last year. Despite having a greater presence in China, the growth rate for Xiaomi is still lower than that of Apple and Huawei. However, the company is now keen on establishing a strong footing in the Indian market, in order to grow its sales and enhance international presence.
The Chinese smartphone vendor sells nearly all of its smartphones online to reduce costs associated with physical stores. The company's devices are also relatively cheaper compared to Apple. Xiaomi charges $250 for its flagship Mi 5, while Apple charges $650 for its flagship iPhone 6s. The Chinese smartphone maker also recently launched a made-in-India smartphone in the country, the Redmi Note 3, for $150.
Mr. Lin highlighted that one-in-three of all smartphones are sold virtually in China. However, in India, he believes that around 50% of all phones will be sold online within the next few years. Currently, the rate is 30%. In the past few years, prominent e-commerce stores including Amazon, Snapdeal, Flipkart, and Paytm all have reported booming sales in India. As millions of new users access the Internet for the first time in the country, e-commerce is expected to grow at an immensely faster rate, and the Chinese smartphone vendor is counting on the sales in India after missing its 2015 global shipments target of 80 million.
Potential Challenges for Xiaomi:
Mr. Lin believes that other markets in the region are comparatively smaller than India. Furthermore, in Europe and the US, the smartphone market is dominated by "carrier- subsidized handsets," which makes it difficult for the company to effectively work its model there. However, analysts believe that Mr. Lin's forecast for Indian e-commerce market is too bullish. Recently, few investors in Indian start-ups have also reduced their investments amid fierce competition and scorching discount wars. According to a report, some mutual fund investors are writing down their investment value in Flipkart, one of the leading e-commerce stores in the country, as many believe that the e-commerce startup won't be able to secure more investments.
In addition, the company's growth prospects in India are uncertain, as it doesn't currently sells to small retailers, where most Indians still buy their phones from. Samsung has increased its presence in India by emphasizing more on "brick-and-mortar sales." Samsung has opened company outlets in India along with a manufacturing facility as well. Moreover, some analysts believe that it is not fair to compare Indian smartphone market with the likes of China. According to International Data Corporation (IDC), around 100 million smartphones were sold in India in 2015, while more than 434 million smartphones were delivered in China.
While some investors and analysts remain cautious on the Indian e-commerce market, others are still bullish. They believe that online sales in the country are likely to increase rapidly over the course of next few years. Morgan Stanley analysts forecast the number of online users in China to reach around 320 million in the next four years. In 2015, the number of active customers using online shopping websites and application reached 50 million.
IDC highlights that Xiaomi currently ranks seventh in India in terms of market share, just behind Apple. But the company's president, Mr. Lin stated that his company ranks third in terms of online sales. It is also important to note that Xiaomi also faces firm competition in India from local Micromax Informatics Ltd, and China's Lenovo Group Ltd (OTCMKTS:LNVGY), as both these companies also sells low-priced products online in the country. In recent years, Lenovo has been predominantly aggressive in cutting prices in India and analysts believe that it will give Xiaomi a run for its money.
However, Mr. Lin said that the company is not too concerned about Lenovo's price cutting strategy and believes that Xiaomi's phones are still better in terms of cost and quality.
The Chinese smartphone vendor looks determined to bounce back after dismal performance in 2015. Xiaomi founder, Lei Jun said: "The past year has been extraordinarily difficult. All of you saw all sorts of negative reports and criticism, even low blows." The saturation in Chinese smartphone market will take time to settle. In the meantime, Xiaomi looks to expand its operations in outskirts of the country. CBN believes that even though the company's management is too bullish on the regional market especially India, it will face strong competition both from local and foreign smartphone makers.
Apple is also concerned about the saturation in Chinese smartphone market, from where it used to generate half of its revenues. Apple's iPhone growth in China for the first quarter of 2016 also dropped down by 14% to 18.4 billion. The company's iPhone growth stood at 70% in 4QFY15. However, the company still performed better in China compared to other regions. Nonetheless, the tech giant is looking to target other developing markets to increase its sale figures.