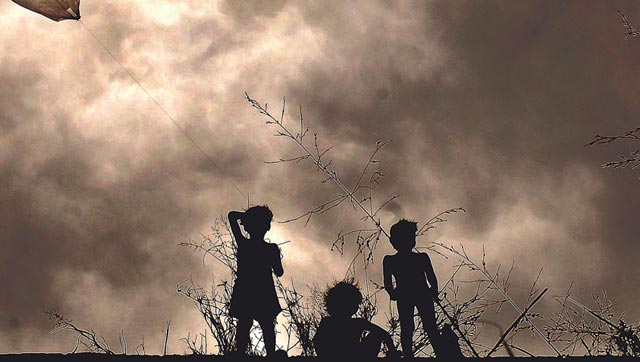 India may be lagging behind China on several economic indicators but when it comes to environmental degradation, the country has definitely outsmarted its giant neighbour.
Of the world's top 20 polluted cities, 13 are in India compared to just three in China. Air pollution slashes life expectancy by 3.2 years for the 660 million Indians who live in cities, including Delhi. In China, the corresponding dip is marginally lower at three years.
The Ganga and Yamuna are ranked among the world's 10 most polluted rivers. China has just one. An evaluation in February ranked Vapi in Gujarat and Sukinda in Odisha among the 10 most environmentally-degraded zones in the world. China had no entries on the list.
The two nations have seen furious economic growth in the past decade fuelling a rapid rise in pollution. China leads the world in carbon emissions and India is in third position. But one important difference between the two emerging economies lies in China's ability to manage the impact of breakneck economic growth on its environment much better than India. The effect of China's success is most visible in its air and water, both of which have a direct bearing on public health.
Both countries were saddled with almost identical environmental concerns a decade ago, but China cleaned many of its polluted rivers and managed to check the spiralling urban air pollution through stringent rules.
The results are showing. "Beijing's air pollution has dipped 40% since 2000 as we have taken steps to phase out polluting vehicles and put checks on building heating systems," said Beijing municipal officer Li Kunsheng at an event in Delhi earlier this year.
In contrast, Delhi's air pollution has steadily climbed by 20% in the same period with successive governments reluctant to act. The story is the same in cities across the country. Coimbatore is the only exception as the air there was found to be fit for breathing.
The impact of rising toxins in the air is clearly visible on an average Indian's life, as proved by a Lancet study in 2012 that ranked air pollution as the sixth biggest killer with an annual estimated toll of 66 million.
A 2015 report by the Centre for Science and Environment, a Delhi-based NGO, says the decline in the country's overall environmental standards was because of river pollution, which is worse now than it was three decades ago, piling garbage in cities and increasingly toxic urban air.
"In India, environment degradation is a runaway problem impinging on public health an exacerbating poverty," says Sunita Narain, the NGO's director general. "We need to act and act fast … otherwise the health cost would be enormous," she added.
A three-year analysis of the water quality in 290 rivers by the Central Pollution Control Board said about 66% of the stretches monitored had high organic pollution. It means 8,400 km of these rivers are badly polluted and not fit for supporting aquatic life. "Increasing flow of untreated waste water from cities into these rivers is the reason for our rivers getting polluted," says Shashi Shekhar, CPCB chairman and special secretary in the environment ministry.
But not all news is bad with innovative green initiatives sprouting all over the country. The bicycling clubs in Bengaluru act as one of the biggest networks of bikers in the country, a group of people have generated organic fertilizer from waste in Kolkata and Bungroo and a programme of the Gujarat Ecological Commission has turned wasteland into a good agri-production zone.
And then, there are a new band of young environment activists such as Ritwick Dutta who took authorities to court for violating environmental laws and protect people's right to a clean environment. As a result, the National Green Tribunal has compensated locals for pollution and one such case is in Tamil Nadu.
Union environment minister Prakash Javadekar is also hopeful of people's participation pushing governments to improve the environment, saying a policy of "development without destruction" is in place.
In the coming years, his ministry plans to introduce a new environmental regime that will focus on "self-regulation" and strengthen the "polluter-pay principle" with higher penalties for violation of environmental laws.