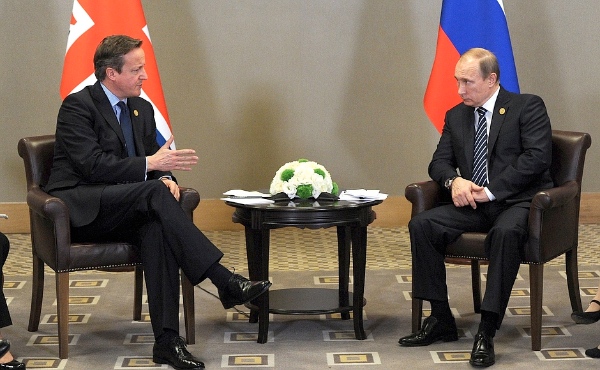 Russian President Vladimir Putin on Monday held talks with British Prime Minister David Cameron in Turkey on  the sidelines of the G20 Summit where the bloc's economic agenda has been overshadowed by discussions on fighting the Islamic State, the militant group that has taken responsibility for the deadly Paris attacks last week.
With recent events in Syria making Kremlin's potential to help broker a political settlement to the crisis increasingly clear, Cameron on Monday said he is willing to make compromises" with the Russian leader.
"The disagreement has been that we think Assad should go at once and Russia obviously has taken a different view and we have to find a settlement where Assad leaves and there is a government that brings the country together. But we must not allow the gap there is between us to be the altar on which the country of Syria is slaughtered. That is the challenge. That is going to take compromises," Cameron told British broadcaster BBC.
On September 30, Russia launched a campaign of air strikes against Islamic State and other militants in Syria.
In his meeting with Cameron in Turkey, Putin said the Paris attacks prove that Russia and the West "should have started uniting our efforts long ago".
"We are very pleased that Britain has joined the Vienna group's work. The latest tragic events, especially what happened in France, show that we simply have no choice but to join forces in fighting this evil, terrorism, and should have started uniting our efforts long ago," a Kremlin statement quoted Putin as saying.
Moscow is hoping that the recent explosions and shootings in Paris that killed 129 people will persuade US and its Western allies like the UK to unify efforts to thwart the Islamic State and bring in peace to the war-torn nation.
Cameron agreed with Putin on the need to put up a united front against terrorism.
"And as you said, we are meeting together after the appalling terrorist attacks in France, and it's clear to me that we must work together to defeat this scourge of terrorism that is a threat to Britain, a threat to Russia, and a threat to us all," Cameron said.
Moscow is intensifying efforts to seek a political settlement in the war-torn country.
"We have to make them choose their own process for how their country should live on and protect the interests of every confessional, ethnic or political group. Of course, this work should be done in preparation for elections, both parliamentary and presidential," Russian Foreign Minister Sergey Lavrov said last month.
"Foreign players", however, cannot decide anything for Syrian people, the Russian Foreign Minister warned.
Russia began air strikes in Syria on September 30 to thwart terrorist forces that include the Islamic State and Jabhat al-Nusra.
Western countries along with Saudi Arabia and Turkey are also engaged in a parallel bombing campaign in Syria but differ with Moscow on the future of Syrian President Assad.
UK, as well as the US, had criticised the Russian air strikes alleging they are aimed at propping up Assad after recent rebel advances. "They are backing the butcher Assad, which is a terrible mistake, for them and the world," British Prime Minister Cameron said last month.
The creation of transitional governing body for Syria with full executive powers, leading to elections, is a tenet of the Geneva Communique of 2012 – when Russia, the US, China, France, United Kingdom, Turkey, Iraq, Kuwait, and Qatar first met to begin a peace process to resolve the conflict.
The UN estimates that 250,000 people have been killed since then, and up to six million displaced.